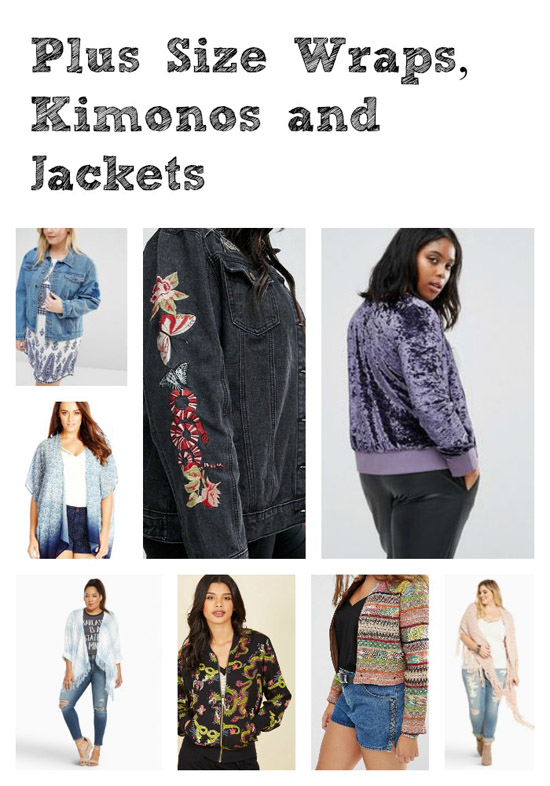 Plus Size Wraps, Kimonos and Jackets
I don't know about you but a heavy, scratchy, buttoned up Mr Rogers style sweater is SO not my style. The sleeves stretch out, I never button it up and after a wash or two it looks terrible. It loses its shape, pills or fades. Ugly.
Also, I work in larger buildings and it can go from freezer to oven from one room to the next. No matter how hard they try a consistent temperature just doesn't happen.
The secret to survival is layers. 
Layers – Plus size that look artsy and fun and aren't too bulky or hard to get on and off. So I went digging around the internet trying to find some things I like that will fit me and I thought I'd share some of my favorite with you.
This post contains some affiliate links for your convenience. Click here to read my full disclosure policy.
Boohoo Plus Embroidered Denim Jacket – asos – the basic denim jacket with a touch of embroidery
Alice & You Embroidered Denim Jacket asos – a sassy denim jacket – I love the darker wash
Club L Plus Crushed Velour Bomber Jacket – asos – velour bomber? My 5th grade self would have DIED for this – as does my current self.
Ombre Print Kimono – City Chic – I like the color and the light weight of this. Great over top of a long sleeve T.
Plaid Challis Shirt Jacket – Torrid – I do love my plaid.
Greatest Blossom Divisor Jacket in Scales – Mod Cloth – I love the colors and the Asian vibe.
Alice & You Multi Geo-Tribal Stripe Trophy Jacket – asos – So bohemian and so ME.
Knit Knotted Tassel Wrap – Torrid – This one would be easy to dress up or down. Not great for teaching and moving around but perfect for a movie or dinner where you never know what the temp will be.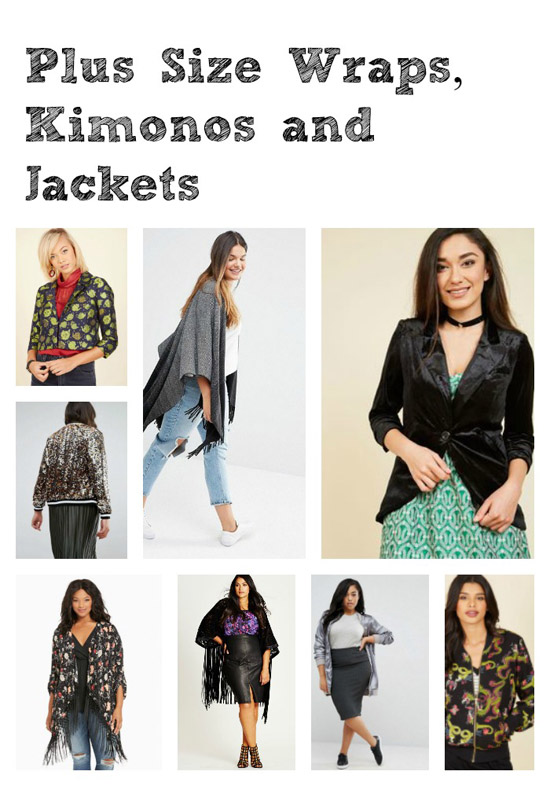 Catch Your Fancy Blazer – Mod Cloth – the tea cups slay me.
Junarose Longline Fringed Cape – asos – Cozy. Perfect for a car or plane trip. Is it a jacket or is it a blanket. Yes!
Fine and Sandy Velvet Blazer in Black – also comes in  Green, and Burgundy – Mod Cloth – So nice. Dressy or causual. This one will do double duty.
River Island Plus Sequin Bomber – asos – Sequin Bomber? Yes please!
Floral Print Fringe Kimono – Torrid  – I already own one very much like this and I adore it.
Hendrix Black Plus Size Kimono Jacket – City Chic – Oh, I love that long fringe.
Alice & You Longline Bomber Jacket – asos – This long line bomber jacket is perfect for covering the bum.
Greatest Blossom Divisor Jacket in Scales – Mod Cloth  – OOPS! Accidentally added this one twice.
What kinds of things do you like to wear when it's cold out and you don't know what temperature the building you visit will be? Are you a queen of layers or do you just wing it and hope for the best?