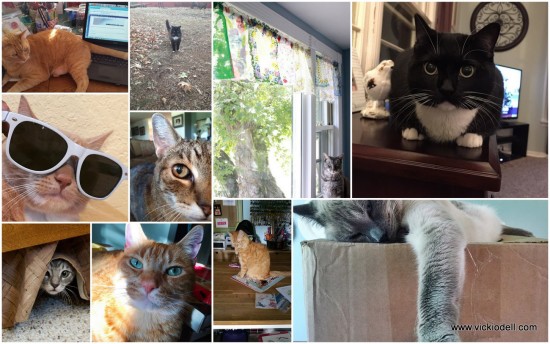 "You can't get mad at a cat for being a cat."
I remember hearing this line as I listened to a book on tape. I was on the Pennsylvania turnpike and it was dark and raining. The book I had been listening to was "We Were the Mulvaneys" and I was near the end.
It's a weird quote taken out of context but at that moment I knew it was one of those lines I would come back to.
You see, the character who says the line has just witnessed someone being scratched by a cat and getting highly upset about it. And says, "You can't get mad at a cat for being a cat."
Cats scratch.
They do all sorts of fun and fabulous things that only cats do.
How does this apply to you? 
Your hypercritical mother will always be hypercritical.
Your husbands ex-wife will always try to be the center of attention at major family gatherings.
Your child who isn't financially responsible isn't going to change over night.
How can you deal with this? 
Ground yourself and recite a list of all the good things you do before, during and after time with your mother.
Understand that some people love being the center of attention and it only bugs you because she is the ex. Let it go.
Stop giving that child money so he/she can learn financial responsibility.
Now sometimes people will get under your skin and it feels like they are doing it ON PURPOSE.
They will blindside you with their latest and greatest. You'll not see it coming and can't prepare.
Calmly remind yourself that they are who they are and YOU can't change them.
[bctt tweet="You can't get mad at a cat for being a cat. It sounds over simplistic, and it is, kind of. But it really does work."]
My husband started to grouse about something someone did a week or so ago and it was totally in character for that person. Annoying for everyone else but so THEM. I reminded him that you can't get mad at a cat for being a cat and he just laughed at me.
Is there someone in your life who behaves in a way that is just part of their nature but occasionally rankles you? How do you usually deal with it?
PS. This post in NO WAY is about a particular person or persons in real life.
PSS.  Thanks to my blogging friends for sharing photos of their cats because I don't have one.
PSSS. Why is it always dark and raining when I have to drive the Pennsylvania turnpike? It's narrow, crooked and full to the brim with tractor trailers going at warp speed.
OK, I'm finished now.