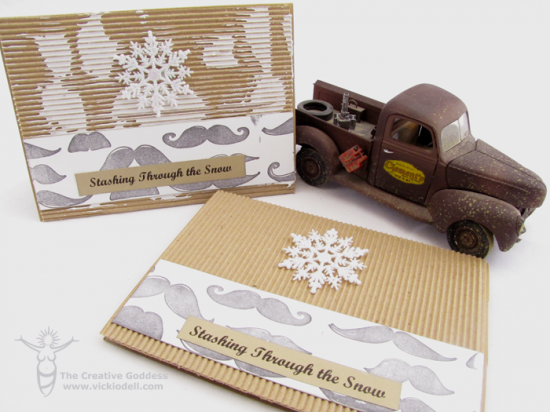 For the several years now my sons have decided not to shave in the month of November.
Honestly, I'm not entirely sure why they do it but I do know that there are two (maybe more) groups who promote NOT shaving as a way to draw attention to mens health. One is Movember and the other No Shave November.
When Jen Good of 100 Directions asked me to participate in a blog hop she was planning to launch her new Rollograph stamp wheels with Clearsnap she said I could choose between a pink ribbon for an October breast cancer awareness post or mustaches for a November mens health awareness post. I knew that I wanted to create something with the mustache stamp in honor of my three sons.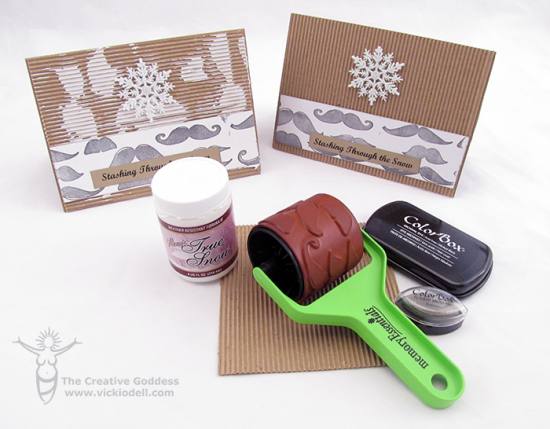 I had fun playing around with the mustache stamp and created a couple of fun, super simple, holiday cards for the guys on my list.
So now I'm wondering…
Do you like a guy with facial hair or no?
Supplies:
Mustache Rollergraph Stamp
Color Box Ink in Wicked Black
Color Box Pigment Brush Pad in Platinum
Aleene's True Snow – Optional
Tape Runner
Snowflake min tree ornament
Adhesive dots
Card blanks – kraft paper color
Corrugated cardboard scrapbook paper
Tan cardstock
Printer paper
Directions:
1 Cut the corrugated paper to a size just slightly smaller than the card blank and adhere to the card blank. If you wish to add snow, spread it on lightly with a palette knife or the side of an unusuable gift card or credit card. Let dry.
2. Ink the mustache stamp and stamp on white cardstock. Cut the strip to the desired length.
3.  On your computer type "Stashing through the snow" and print it out on tan colored cardstock. Cut to size.
4. Adhere the white mustache stamped cardstock to the corrugated cardstock – use the tape runner on the BACK of the white cardstock and adhere to the corrugated cardstock.
5. Adhere "Stashing through the snow" to the mustache stamped cardstock
6. Cut the hanger portion off a mini tree snowflake ornament and adhere it to the face of the card with a glue dot adhesive.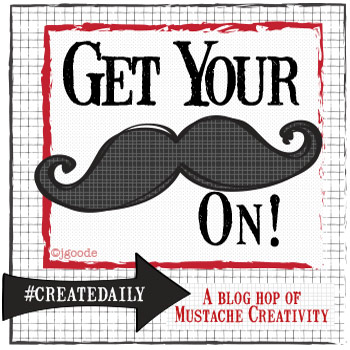 Be sure to visit  Mustache Mania to enter to win a goodie box and to learn more about Jen Goode and her new stamp designs.