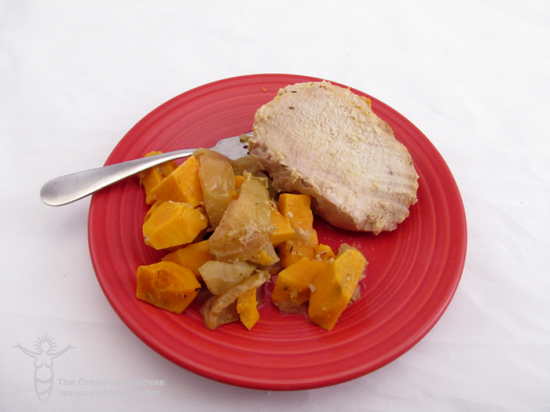 I made this last Sunday for our weekly family dinner and it was a HUGE hit.  It was even better as leftovers, easy to make and healthy too!
It's a lot of food, even for a family of 7 or 8.
Next time, I'm making it in the crock pot. Then it will be even more easier to make. 🙂
Roasted Pork Tenderloin with Sweet Potatoes and Apples
Ingredients:
1 – 5lb pork roast
Extra Virgin Olive Oil
6-8 medium sized sweet potatoes
4-6 apples – I used Honey Crisp
1-2 sweet onions
9 Tbsp Dijon mustard
9 Tbsp maple syrup
6 tsp fresh thyme – finely chopped
5 Tablespoons Apple Cider Vinegar
Salt and pepper to taste
Directions:
Brown the pork roast on all sides in a frying pan with a little extra virgin olive oil and salt and pepper. Transfer to an oven safe dish.
Peel and cube sweet potatoes and add to the dish.
Peel, quarter and then cut apples into wedges and add to the dish.
Cut the onion into wedges and add to the dish.
Mix remaining ingredients and pour over the entire dish.
Cover with a lid or aluminum foil and bake at 425° for one hour or until the internal temperature of the pork reaches 165°.
Serves 8-10 people with leftovers