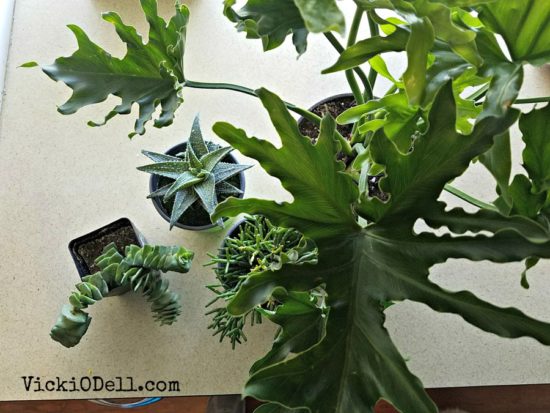 3 Modern Bohemian Plant Hangers
Every one knows that Crazy Plant Lady is the new Crazy Cat Lady. Something you may not know is that I'm the QUEEN of the Crazy Plant Ladies around these parts.
I can't help myself. If I see a plant that is unusual or unique in some way I've got to bring it home with me!
At one point this summer I swore I wasn't going to buy any more plants for the flower beds because it was getting so late in the season.
Don't you know I had to run to the nursery for something and ended up coming home with a whole slew of new plants!?!
Hubby and I went to Lowe's one evening for just a couple of things we needed to paint the kitchen and I ended up coming home with a plant. It's a sickness!
This post may contain affiliate links for your convenience. If you purchase an item after clicking a link I may make a teeny tiny commission at no extra cost to you.  Click here to read my full disclosure policy.
The thing about coming home with those tiny nursery pots is that the plants are probably root bound and need to be re-potted pretty quick if they are going to survive.
Unfortunately, I didn't have anything that would look good in my dining room window where I wanted to put the plants and I also needed way to keep them out of the cat's reach until they could get a little bigger.
These were truly little baby plants. Awwww!
Here is how I created these 3 Modern Bohemian Plant Hangers.
I found three small clay pots in the garden shed and gave them a good cleaning.
Next, I taped off random triangles with blue painters tape and gave them a couple of coats of  Liquid Leaf from Plaid Crafts with a cheap-o paint brush.
Why a cheap-o paint brush?
Let's face it, I'm too lazy to clean Liquid Leaf out of a paint brush. I'd rather just toss the paint brush!
While the Liquid Leaf dried I created three plant hangers.
I re-watched this video for Classic Macramé Plant Hangers by Emily Katz over on Creativebug and I got to work.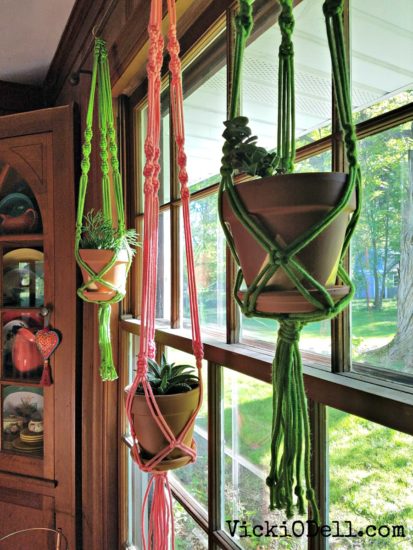 I slipped the brass macrame rings over the curtain rod (I had taken the curtains down earlier in the spring to wash and then never put them back up) and created the plant hangers right there in the window.
I used the coral and green macrame cord for a bit of color since the plants are still so small and I left the tassels at the bottom a bit long for the same reason.
I love the way they turned out and how the golden triangles on the pots adds a tiny bit of shimmer.
I also like that these three babies are close together. It makes it easier to water them and keep an eye on them.
I also like that this window is basically uncovered. It lets a lot of light into this somewhat dark house.
Are you a crazy plant lady? Do you have a favorite?
If you would like to be alerted when a new post is published you can subscribe below.