I shared in a post last week about how I was madly in love with a bold, blue paint for my living room walls and how my husband thought it was "GARISH" in this post Home Decor: Color – Courageous or Crazy.
I painted the wall anyway after he said that I have never done anything he's not liked and to do whatever I wanted.
I worked like a dog getting the room finished one day while he was at work.
And I was so excited for him to see it because I actually SQUEALED (I am NOT a squealing kind of gal) when I put the final touches together.
And he HATED it.
*Insert sad trombone*
He did like that I'd used several of his father's paintings on the wall but he really didn't like the deer antlers.
My comeback? "But they are vintage!"
He even said that he liked the way everything looked on the blue but he was kind of freaking about the antlers.
Who would have thought?
Antlers?
One of the things I particularly like about this wall is that only the candles, the little vase and roses are "new" purchases. Everything else has been handed down, thrifted or repurposed. Sweet!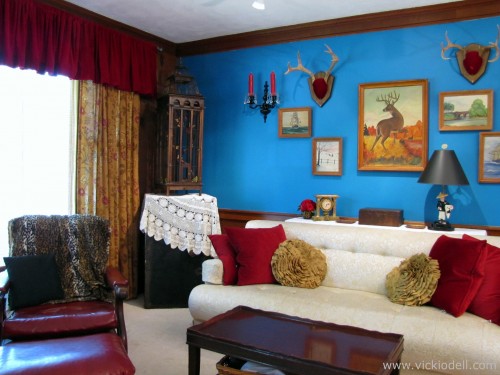 The trunk in the corner was my grandmothers. I had it sitting there before but it was sitting on its bottom and sort of disappeared behind the furniture.
So I turned it on it's end and its much easier to see now.
The bird cage has a manzanita branch in it with lots of little monarch butterflies.
And this is the mantle wall, across from the blue wall, dressed up for summer.
And the top of the piano.
After living with the room for several days he's not hating it quite as much. He's gotten used to the blue and points out to everyone that the antlers are VINTAGE. No deer were harmed in his wife's decorating zaniness.
I still love the room, the color, the antlers and the whole thing.
Wait until he sees what I have planned for the corner cupboards. 😉