I have a bit of a confession to make. I'm a chicken salad junkie. I love a good chicken salad in the summer. Just put it on a bed of fresh greens and I'm a happy gal. Add a side of good, cold watermelon or cantaloupe and it's a complete meal for me. Yum!
The only problem is that typical chicken salads tend to have lots of things in them that aren't so good for you. Tons of fat and sugar not to mention that I'm beginning to get a little paranoid about where my chicken comes from. Did you hear that the US is going to send our chickens to China to be processed and then send them back to us? Um… NO thank you.
So that got me to wondering if I could create a tasty chicken salad without the chicken. Tofu was out because while I don't mind the taste I'm not a big fan of the texture. It's OK but not as one of the main stars of a dish.
I have never tried Tempeh before and I saw Organic 3 Grain Tempeh on the Door to Door Organics website and added it to my cart along with grapes, celery, red apples, mayonnaise, and a lemon.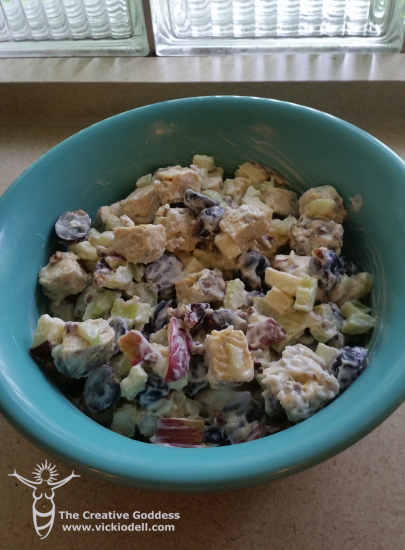 I was totally blown away by how it tuned out. I fed it to four people without telling them it was tempeh in stead of chicken and no one could tell.
The best part? This is vegetarian AND it has a whole lot less fat. According to my calculations it has 4 Weight Watchers Points per serving. Whoa!
I just looked it up and an Arby's Chicken Salad Sandwich (my old favorite) is 17 points. For some people that is almost a whole day!
Anyway, here is the recipe:
Remove the tempeh from the packaging and put into a pot of boiling water. Allow to boil for 10 minutes.
Remove the tempeh and cut into bite sized pieces/cubes.
Place the cubed tempeh into a large bowl.
Toss in celery, red seedless grapes, apple and chopped pecans.
In a smaller bowl combine 1 cup mayonnaise, 1/2 teaspoon of sugar and the juice of half the lemon. Stir until sugar dissolves and ingredients are well blended. Taste and add more mayonnaise, sugar or lemon to adjust the flavor to your taste.
Blend the dressing into the ingredients. Stir gently and coat all of the ingredients.
Chill for 1 hour.
Serve on a bed of lettuce, on bread or sandwich thins.
Would you like to have a chance to WIN a $50 gift card for Door to Door Organics? Sure you would!
To enter you need to be local to the Cleveland/Akron Ohio area or make sure that Door to Door Organics delivers in your area. Just leave a comment on this post letting me know your FAVORITE fruit or vegetable and your zip code (so I can help check to make sure the gift certificate will work for you). That's it. All there is to it.
Ends Monday June 1st 2015.
OH! And if you don't win the gift certificate you can Get $10 off your first Door to Door Organics order.