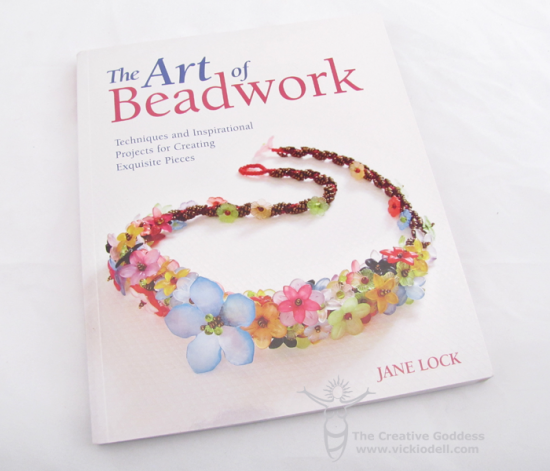 The Art of Beadwork – Techniques and Inspirational Projects for Creating Exquisite Pieces  by Jane Lock
From the back of the book:
This is your definitive reference book for everything beadwork.

The Art of Beadwork is a comprehensive, practical guidebook dedicated to all things bead. Beginners will be walked through techniques step-by-step, while more advanced beaders will revel in trying out sample projects created by some of the  best bead designers crafting today. The techniques are explained using large-format photographs, so it's easy to see how the steps will appear; interspersed are inspirational projects that allow you to test-drive the techniques you just learned by applying them to earrings, necklaces, bracelets, and more. Woven throughout the book is sage advice from author Jane Lock, including guidance on designing your own pieces and choosing colors that harmonize. The glossary in the back will explain all technical terms, and the resources will guide your buying decisions.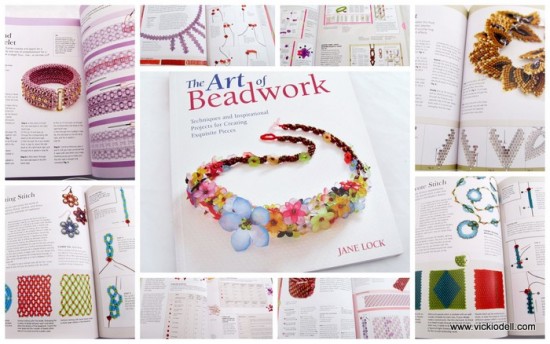 I got really excited when I was asked to take a look at The Art of Beadwork. I've been wanting to learn some new techniques for a while now but just haven't had time to take a class.
Even though I have quite a bit of beading experience I love the educational section at the beginning of the book. The author goes over the many different types of beads used in beadwork as well as findings, threads and tools as well as workspace and storage. The section about design and color is very helpful for anyone who questions their color coordination abilities.
There is also a great core techniques section for the beginners or those you might want a quick refresher course.
All of the stitches you hear about Right Angle Weave, Peyote Stitch and Brick Stitch are covered in this book as well as Making Bezels and Beaded Beads.
I can't wait to get started on a new project!
Here are some details about the book:
Paper Back
153 Pages
MSRP $20.00 USD
Chapters include:
Getting Started
Techniques and Projects
Stitch Variations
Combining Stitches
Loom Work
Guest Designer Projects
The Art of Beadwork – Techniques and Inspirational Projects for Creating Exquisite Pieces  by Jane Lock
 is available from the amazon.com widget below for $15.86.
This book was provided for review. All opinions are honest and my own.
This is an affiliate link and purchases made by clicking on this link may result in my being compensated by amazon.com.