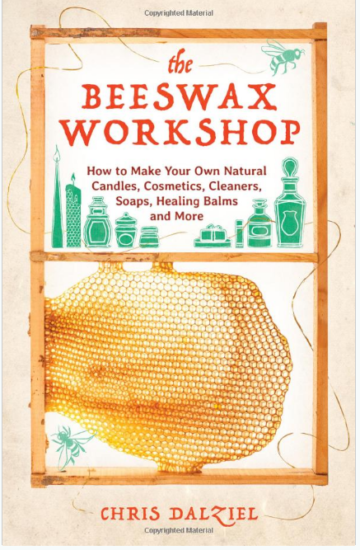 The Beeswax Workshop by Chris Dalziel is one of the more fun yet educational and helpful books I've read in a long while. It's fun because it actually tells you how to make Pomade for your hair a la Oh, Brother Where Art Thou?
And Beeswax paste polish for wooden floors. Do YOU know anyone who would go to that kind of work to polish floors these days?
Educational and helpful because the book is jam packed with instructions for:
All sorts of candles including Rolled Birthday Candles
Lip Balm of all sorts
Soap and Hair Care
Apothecary Items
Along with uses in the home, garden and art!
This post contains some affiliate links for your convenience. If you purchase an item after clicking a link I may make a teeny tiny commission at no extra cost to you.  Click here to read my full disclosure policy.
There aren't many photos in the book and the ones included are in black and white but I'll tell you it's got over 75 "recipes" plus TONS of general bee and wax information. IT's selling for only $8.30 USD on amazon right now (use the purple bold link above to order) and it's worth every penny and then some. This is a book I'm keeping on my bookshelf and I'm sure I'll be returning to it over and over again. Especially as I hope to be keeping bees in the next few years!