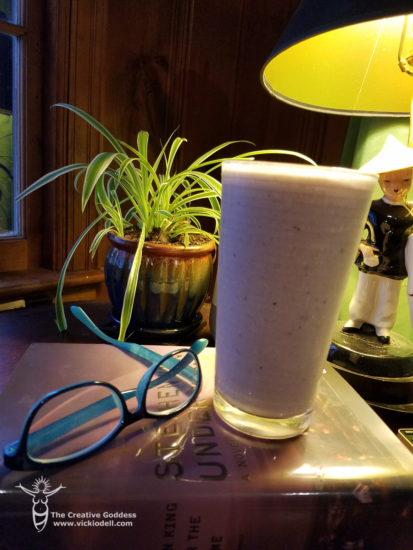 One of the things I'm working on lately is taking better care of myself. To me that means time for reading and relaxing along with healthier foods.
I've been experimenting with smoothie recipes and this is one of my favorite
Chamomile, Blueberry and Peach Smoothie
2 cups almond milk
2 chamomile tea bags
1/2 cup vanilla yogurt
3/4 cup frozen blueberries
3/4 cup frozen peaches
2 teaspoons honey (optional)
2 teaspoons ground flax seed (optional)
Heat almond milk in microwave or on stove top. Add tea bags, cover and let steep for 10 minutes, then chill for one hour or overnight.
Once almond milk is very cold, combine all ingredients in a blender and process until smooth.
This is a great smoothie for late evening – especially when I don't feel like cooking. I hope you will give it a try and let me know what you think.


1. Simple Green Smoothie by Bright Green Door
2. Chocolate Strawberry Protein Smoothie by Create and Babble
3. Layered Smoothie by Dans Le Lakehouse
4. Orange Carrot Smoothie by Divine Lifestyle
5. Strawberry Lemonade Smoothie by Embracing Homemaking
6. Peach Cobbler Smoothie by Endlessly Inspired
7. Tropical Green Smoothie by Harlem Lovebirds
8. Spinach and Pineapple Green Smoothie Bowl by Lucky Andi
9. Simple Strawberry Smoothie by Only By Grace
10. Orange Carrot Ginger Whole Food Smoothie by Pretty Polished Perfect
11. Tropical Spinach Smoothie by Red Shutters
12. Chamomile, Blueberry, and Peach Smoothie by Vicki O'Dell
13. Pineapple Spinach Smoothie by The Honeycomb Home
14. Dreamy Lavender Smoothie by The Mom of the Year
15. Green Detox Smoothie by This Girl's Life
16. Winter Citrus Smoothie by Two Places At Once
17. Chocolate Pea Protein Smoothie by We Know Stuff