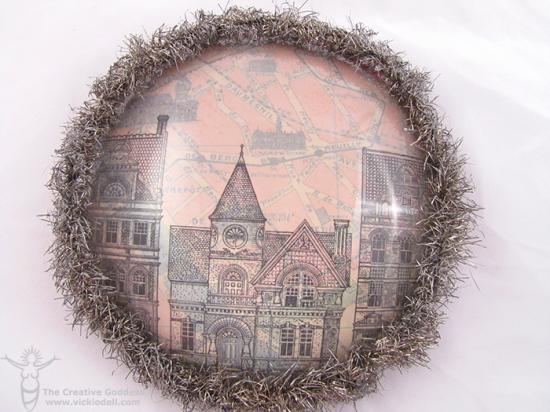 I've never been to Paris but it's on my list of places to visit some day. I think Paris at Christmas would be the ULTIMATE but I'll go any time.
I am taking part in the third annual Handmade Holidays Blog Hop and I also have a post using these great stamps over on the 100 Proof Press Blog today. I LOVE, LOVE, LOVE these three stamps!
First, I thought they looked like something from a Dickens Novel and so I created the project on the 100 Proof Press Blog and then I found this paper that is printed with a map of Paris and I thought it might work with that too.
But what to do with it?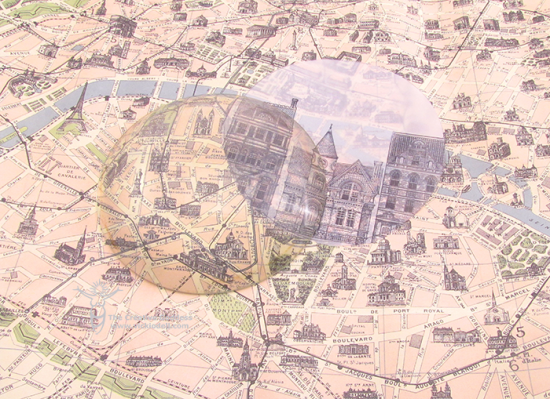 And that's when I remembered the two large lenses my theater major son brought home a while ago. Apparently they were changing out some of the lights in the theater and they had these great old lenses on them and he save two of them for me.
I'm only sad he didn't bring home more. Greedy, I know.
I've been hording them because I didn't want to use them up but I finally broke down and used one for this project.
I stamped the houses onto a translucent vellum with a solvent based ink and gave it a few minutes to dry.
I could have stamped right on the map and saved a step but I wanted to tone down the pink a bit and have the map fade into the background.
I traced around the lens and cut the map and the vellum to size. I sprayed the map with a light mist of Aleene's Repositionable Adhesive and put the two together.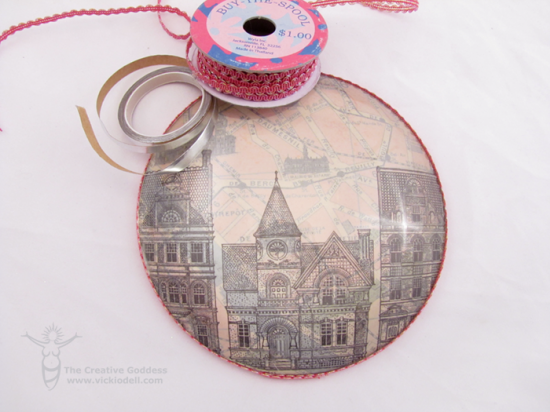 I secured the paper to the lens with 1/4 inch wide aluminum tape and I covered it with a pink ric rac that had a bit of opalescent thread running through it.
Cute, but not quite what I wanted.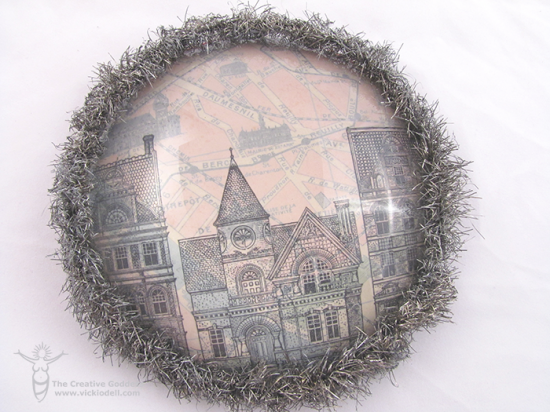 I really wanted something vintage silver. I couldn't use the same tinsel I used for my Vintage Inspired Bell Wreath from yesterday because it is too large. Then I remembered this mini vintage tinsel I had in my stash.
And I like it so much better.
I'm going to get a sheet of cork or heavy duty felt and put on the back of the whole thing to finish it off.
I might also see if I can find something small and Christmas looking to add to the face of the paperweight somewhere too.
Now, I know that not everyone has access to old lenses but you could also use a domed glass frame like these. In fact, that might even be better because you could add many more elements to your piece.
So the only question remains – If you could travel anywhere in the world for Christmas where would you go?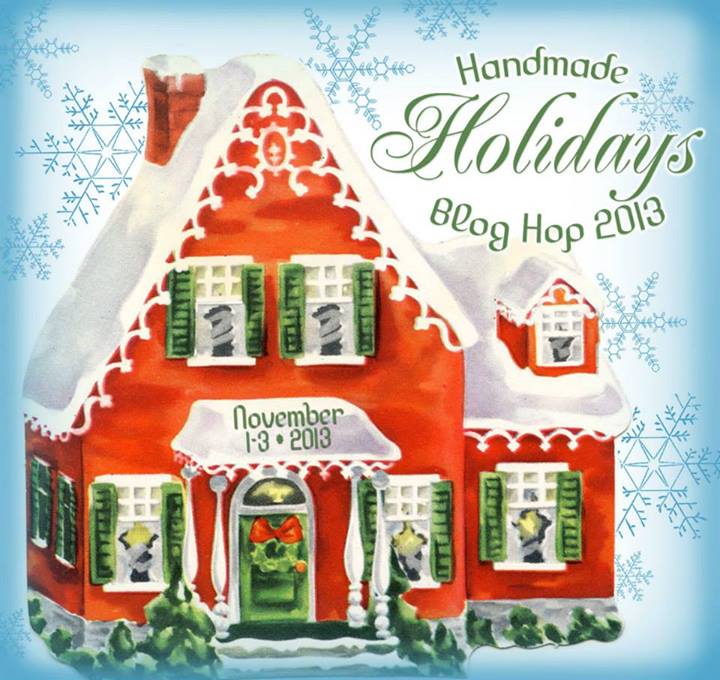 This post is part of the Third Annual Handmade Holidays blog hop!! The best crafters, designers, and makers have come together to create and share  a series of thoughtful, handmade gifts for the holidays during this 3 day blog hop. Our goal is to inspire you to create something from the heart this holiday season as well as share how to use our products in fun, innovative ways. We intend this hop to serve as a resource to you for this holiday season and for years to come.
Hop along to each blog in the list. Each day, from November 1 through November 3, 2013, we'll be posting a brand new list of blogs to hop to. Comment on each blog, share your favorite posts over social media, and then use the Rafflecopter widget at the bottom of each post to enter to win the Grand Prize, a gift basket filled with crafty swag from the companies on the hop! We're ready to inspire, share, and create – are you ready to hop?
November 2: