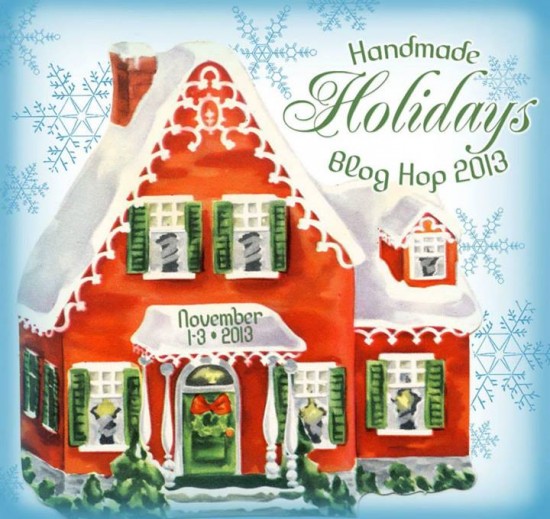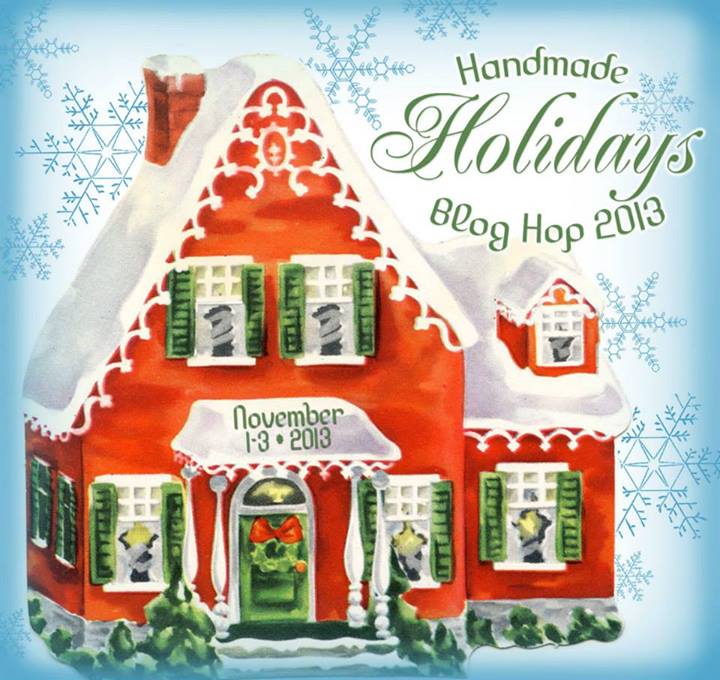 Welcome to the third annual Handmade Holidays Blog Hop. This is my first year participating and I'm so happy to be involved. I'll have a new project each of the three days and there will be lots of other blogs to visit and inspiration for your own handmade holidays to be had.
PLUS someone will win a fabulous prize! More on all of that at the end of the post.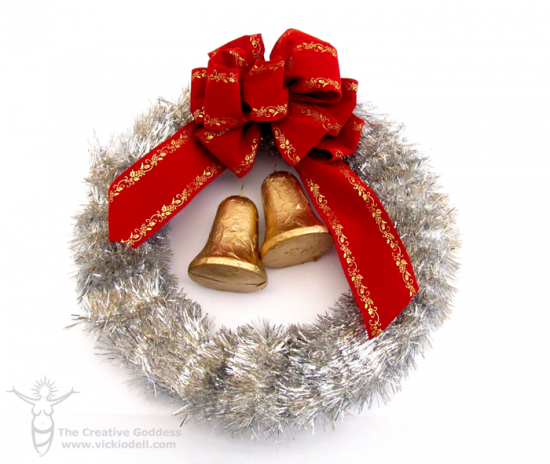 There are plenty of  upsides to having your kids grow up and leave home and one of them is that you get to make MORE crafty holiday decorations.
I had forgotten that it takes a few years to be able to deck out even a small apartment in full holiday decor. Last year I noticed some kind of bare spots in my kids' apartments and such so I started making some Christmas decorations this year that I think they will like that I can give them BEFORE Christmas.
An early gift. Or two… or three.
Vintage Inspired Bell Wreath
Supplies:
Silver Tinsel
Deco Pauge Medium
Foam Paint Brush
White Tissue Paper
Spray paint in Metallic Gold and Brown Boots
Spray paint in Glossy Wood Tone -optional
Metallic gold wire or ribbon
Two kabob skewers
Ribbon of your choice
Floral tape covered flora wire
Fern Pins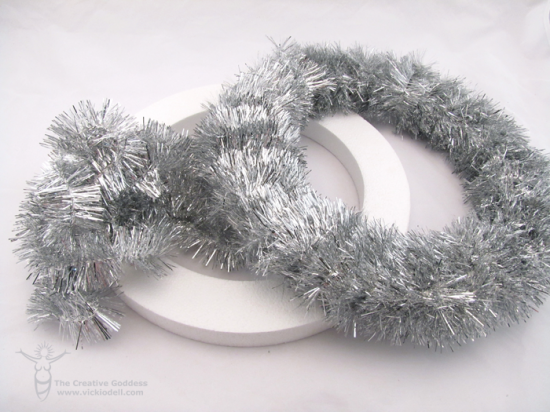 Secure one end of the tinsel to the wreath form with a fern pin.
Wrap the tinsel around the wreath form covering all of the form. Cut the tinsel and secure the end with a second fern pin.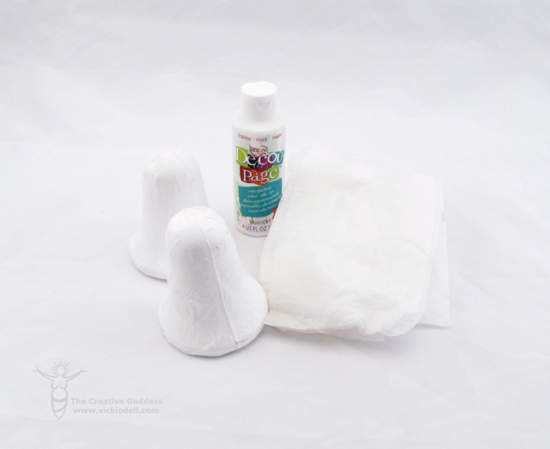 Cover the wedding bells in tissue paper. Crumple up the tissue paper to give it some texture and adhere it to the bells with decopauge medium. Let dry.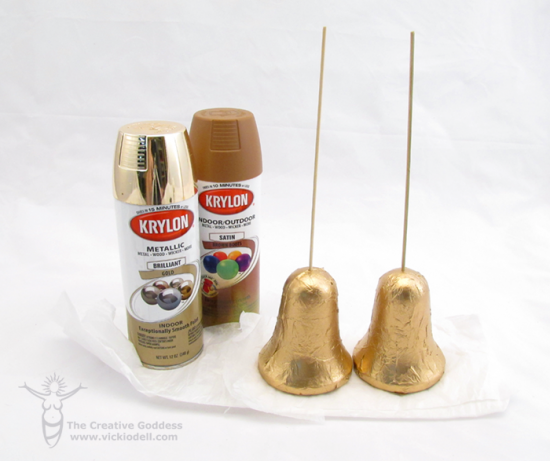 Poke the kabob skewer into the top of the bell to use as a handle while painting.
Paint the bells with Metallic gold, let dry.
Paint very lightly from quite a distance away with brown boots if the metallic gold is a little too shiny for your liking. You won't want to coat the bells in brown but just add a dusting of color to tone down the metallic a bit.
Be sure to also leave some sections unpainted with the brown so that it looks unevenly aged.
Remove the kabob skewers and replace with gold covered wire or ribbon. Put a few dots of glue into the hole left by the skewer and then add the wire or ribbon. Let dry.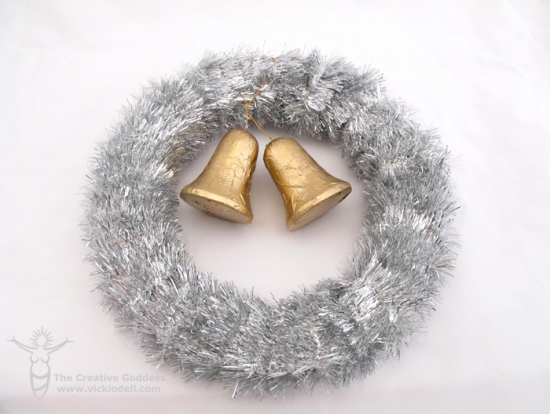 Secure the bells to the wreath form with a few more fern pins.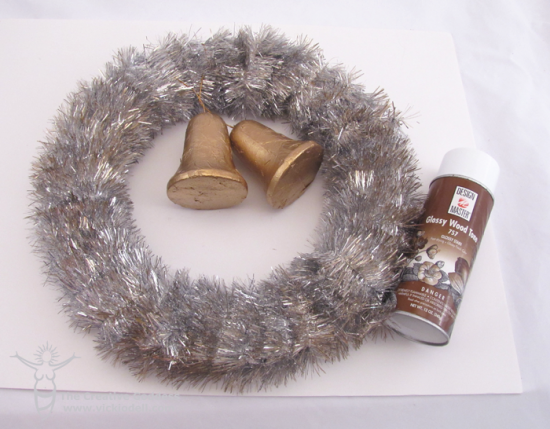 To age the tinsel and the bells spray with Glossy Wood Tone spray paint. Start with very light coats and build up to your liking.
The color tends to fade a bit as the paint dries so you may wish to go back and add more color once the first coat has dried.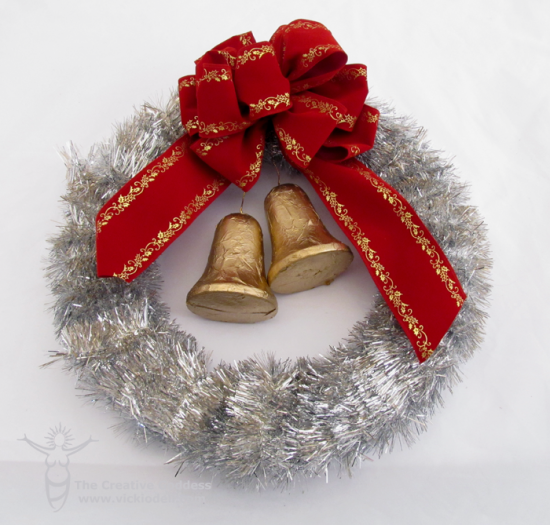 Finally, add a bow. If you need help making a bow I've created a video How to Make Floral Bows. It's really easy once you have a little practice.
This post is part of the Third Annual Handmade Holidays blog hop!! The best crafters, designers, and makers have come together to create and share  a series of thoughtful, handmade gifts for the holidays during this 3 day blog hop. Our goal is to inspire you to create something from the heart this holiday season as well as share how to use our products in fun, innovative ways. We intend this hop to serve as a resource to you for this holiday season and for years to come.
Hop along to each blog in the list. Each day, from November 1 through November 3, 2013, we'll be posting a brand new list of blogs to hop to. Comment on each blog, share your favorite posts over social media, and then use the Rafflecopter widget at the bottom of each post to enter to win the Grand Prize, a gift basket filled with crafty swag from the companies on the hop! We're ready to inspire, share, and create – are you ready to hop?