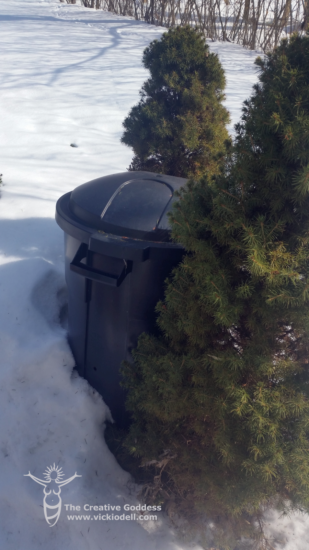 Those of you who live in warmer climates might think that composting all year long can't be a real issue. I live in NE Ohio, otherwise known as the frozen tundra in winter. It gets really cold and sometimes we get piles of snow – and that makes trekking out to the compost bin a huge chore.
Imagine, it's -10° actual air temperature (none of that windchill stuff), the wind is howling and the snow is up to your knees.
Who wants to hike out to the compost bin back behind the gardens?
Not me! So I've figured out a lazy warm gal's  way to compost all year long.
This post contains some affiliate links for your convenience. Click here to read my full disclosure policy.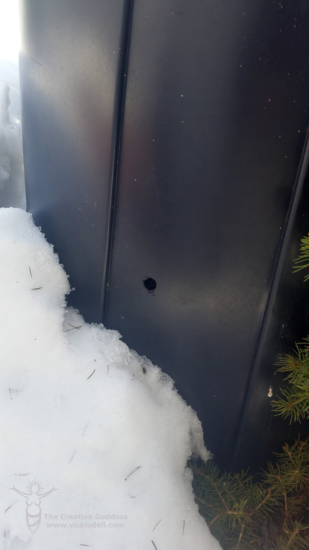 I've actually used this through two winters  now so I know it works well.
I bought a heavy duty Rubbermaid 32-Gallon Black Roughneck Outdoor Trash Can with Lid and then swiped a couple of bungee cords from my husband to be able to secure the lid good for those windy days. 
While I was in the garage I grabbed the drill and a large drill bit and drilled holes all around the garbage can's bottom third – including the bottom.
Then I situated my new winter compost bin right in the center of three arborvitae shrubs at the end of the back patio. This way I figured that all of the "juice" from the compost would feed the arborvitae.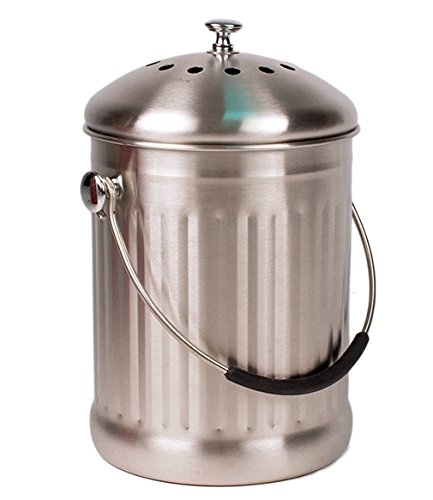 I also purchased this Stainless Steel Kitchen Countertop Compost Bin for INSIDE the house.
Those filters really do work! I've let the compost sit in it for several days and was unable to smell it in the kitchen. 
Normally though I keep it in the left hand side of my kitchen sink. 1)So I see it and remember to use it. 2) So I see it and remember to take it out and 3) because a sink full of dishes makes me nuts so I'm forced to put dishes in the dishwasher in stead of the sink.
And that works like magic for me!
I day the compost out to the bin at the end of the patio real quick and make it back in before I'm frozen solid. When the weather warms up I either use the compost right away or let it "cook" a bit more.
When fall comes around I give the can a good washing and then set it up for winter.
During the summer I don't mind taking the stainless steel bin out to the compost bins at the other end of the yard.
But during the winter? No way!