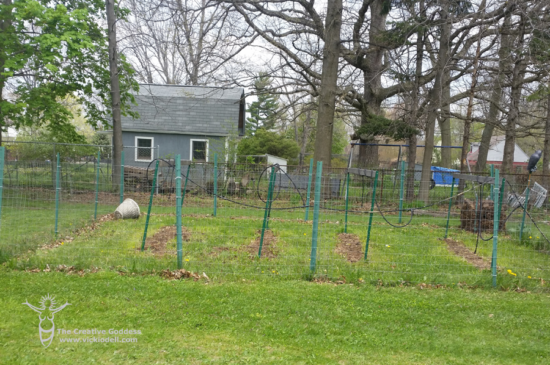 Hello! I've been pretty quiet online the past couple of weeks as I've been spending the bulk of my time in the straw bale garden. I didn't do much in the way of yard work or gardening last year except for installing the straw bale garden – and even that I didn't keep up with like I should have. Between recovering from breast cancer treatment, dealing with my mother's cancer, my baby bird leaving the nest and a hellacious case of depression I just didn't have the energy or physical strength for all of it. I planted several plants in straw, set up the automatic drip irrigation and then crawled back in bed.
This year my time in the straw bale garden is a whole different thing. You can't MAKE me go inside. I'm bloody, bruised and sun burned but I've never been happier.
The photo above shows the garden with the straw bales from 2015 removed – along with the nest of bunnies that took up residence.
The black "cable" you see hanging is my drip irrigation system.
To clean up this type of garden and get it ready for planting all you need to do is remove the old bales and mow the grass. So easy!
I set up a square on each of the east corners and filled each one with FOUR bales of old straw. That is how much the straw breaks down over a year.
I'll share in another post what I'm doing with those squares of old straw. It's kind of an experiment so I've got my fingers crossed that it works well.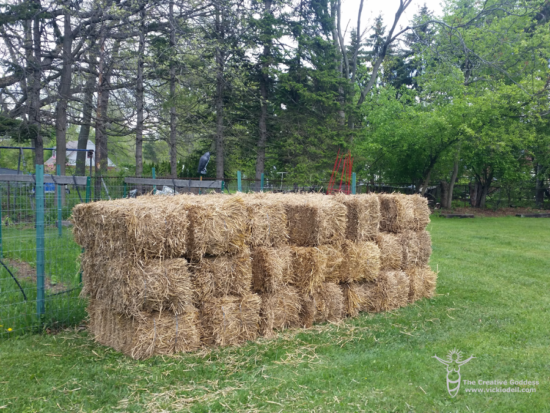 Then I had 20 fresh bales of straw delivered. This straw was more expensive than the stuff I got last year but it's packed really tight.
The 2015 garden had 16 bales and I got an extra four this year.
I've already decided to do 24 for next year and I actually EXPANDED the garden space to add other things inside the fence. More about that later too.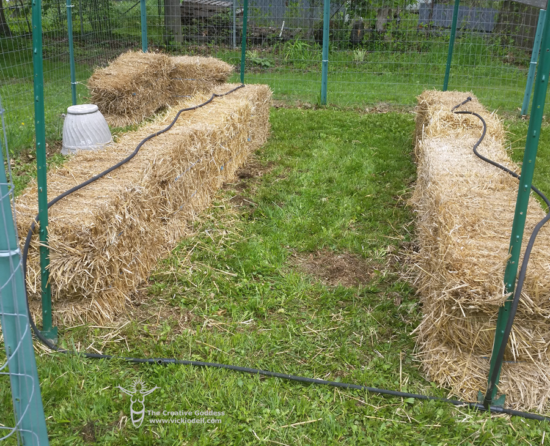 This irrigation layout really bothered me. The system my family bought for Mother's Day last year only had the black porous hose. Nothing solid.
I hated the waste of water going on in between the rows of bales. I really didn't want to water the grass because that would just mean I'd have to mow more often (actually, one of my sons mowed for me last year) and it just seemed like such a waste of resources. Ya know?
I felt guilty for essentially wasting all of that water.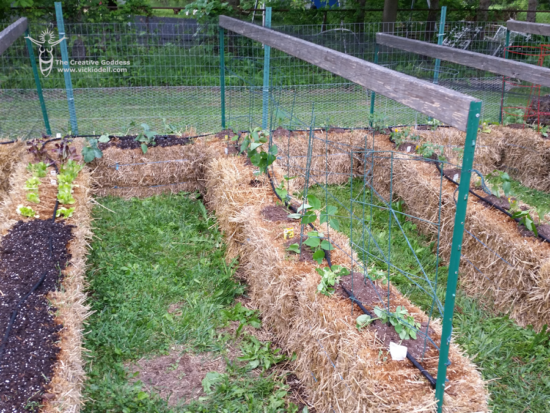 So I did lots of bale moving – which isn't easy once they are full of fertilizer and water! – and moving around of the irrigation system to find something that worked better.
I ended up with this configuration. I flipped the system so that those extra bits of hose are at the back and then I separated each row of bales with a bale of straw. This layout has ZERO water waste happening.
There are three rows and then the four bales that go in between. Yes, there is a spare bale that is full of onions but next year there will be another row off that to make five rows total.
I've got the bulk of my plants in the bales and it's off to a great start.
I filled two bales with previously started greens/lettuce from the nursery and then covered two bales in potting soil (don't use garden soil if you want to keep this relatively weed free!) and planted greens/lettuce seeds. This way I'll get two cuttings from the bigger greens and by the then the seed started greens should be ready. I can pull the first crop out and start a new batch for seeds. I'm hoping to keep us in fresh greens most of the summer this way.
Generally, if you cut the greens from the base they will grow back and you can get another whole batch of greens. You can do this twice – during the second harvest just pull it all out by the roots – because the third cutting starts to get a bit bitter. But hey, you may like that.
All in all I planted 8 Roma tomato plants, 4 heirloom varieties, 2 cherry tomato, 2 pumpkin, 2 spaghetti squash, 2 zucchini, 2 yellow crooked neck squash, 1 hot banana, 2 yellow bell pepper, 2 orange bell pepper, 2 pole bean, 2 green/yellow bean, 2 sugar snap peas, kale, several varieties of lettuce and onions.
I have a more traditional in-ground bed that I'm doing some AB testing to see which items grow better in the soil versus the straw bales. Because I'm a geek like that.
I'll update you over the summer to let you know how things are going and to share some of the other things I've planted or am trying.
I have time to spend in the straw bale garden because I lost that writing gig I wrote about in this post Getting Unstuck and being a urban farmer gal and making pretty things are pretty much all I need to be happy. Life is good!
Have you tried a straw bale garden? What do (would) you grow in yours?