It used to be that I redecorated or rearranged our home quite often. The family would leave in the morning and come home to find things completely rearranged. But as life got busy – and especially after I started running my own business from home – those changes came less and less often. Now I live with things until they start to make me kind of nuts and then I have to change them RIGHT NOW. That's what happened earlier this week in our bedroom. I last painted it a few years ago and while I can wait until warmer weather to paint I couldn't stand this too small nightstand and our curtains another single day. A bedroom refresh was needed ASAP!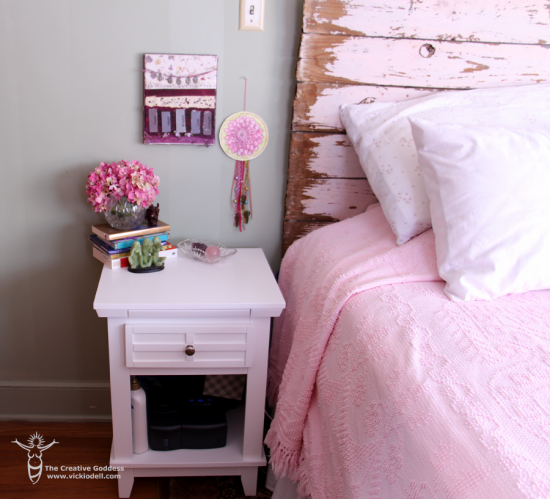 Side table provided by Wayfair.   
I love this little side table. I ordered it from Wayfair and it arrived in just a couple of days. Once it was put together (super easy!) I knew I needed to give the rest of my bedroom a little refreshing.
The first thing I did was to use a Forstner bit and drill out two holes in the back of the lower portion for my CPAP hose and power cord.
I washed and dried all of the bedding down to the mattress pad, vacuumed (yes, even under the bed), dusted, and put my new night table next to the bed.
And look at the top photo, I don't have to put my CPAP on a stack of books any more! I put my CPAP machine inside the shelf and it fits perfectly and is at the right height. The two holes in the back allow the hose and cable to go where they need to go.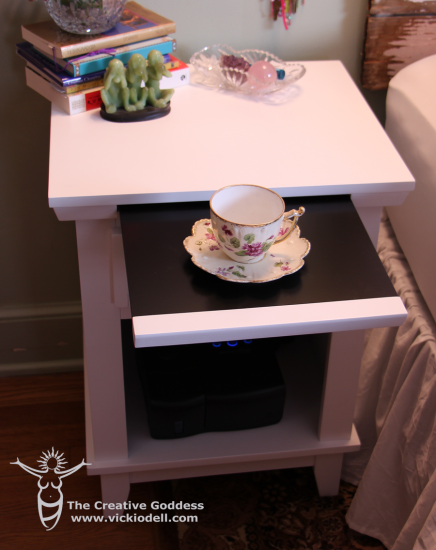 I love reading in the morning when I first get up – or when I go to bed. And if I can have a cup of tea while I'm reading, well, that's just heaven. I think  the pull-out tray is kind of genius and will be wonderful for long mornings reading and sipping tea. Not that those mornings happen often but when they do I am ready.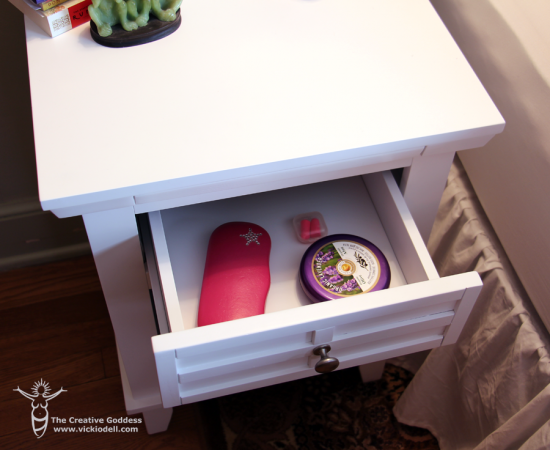 The drawer is perfect for holding glasses, lotion and ear plugs (those of you with husbands who snore will understand.) I love that this side table isn't much wider than the other table I had but I am able to put all of my necessary items within reach and not on the floor.
The next thing I did was take down all of the curtains. I had a sheer, drape and heavy valance on both windows and they were DARK. Now I just have one sheer panel on each window until I hem the curtains I picked up at IKEA. I have to say, it's much brighter in there but also colder. I had no idea how much warmth all of those layers of fabric added to the room.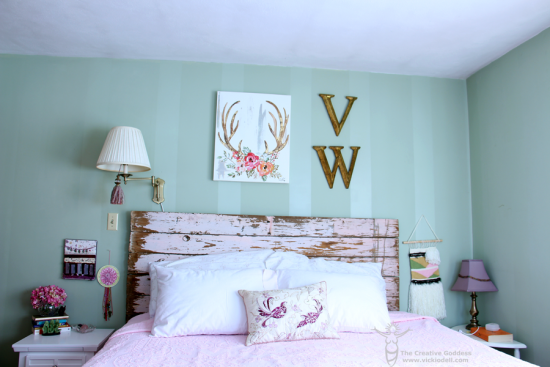 Finally, I moved a bunch of art around and put the bedding back on the bed. I'm not the kind of home decor or DIY blogger who can afford a whole room makeover and I actually like that my rooms evolve a little at a time. Next up is probably a new bedspread even though I love this vintage chenille bedspread that I dyed pink. I'm just getting kind of tired of looking at it. Oh yeah, and a new coat of paint in the spring.
At some  point I want a chair with a footstool and floor lamp so I can create a reading nook and two new dressers but until then, I'm going to enjoy this little bedroom refresh that cost me next to nothing.
Do you redecorate whole rooms or let the look evolve like I do?