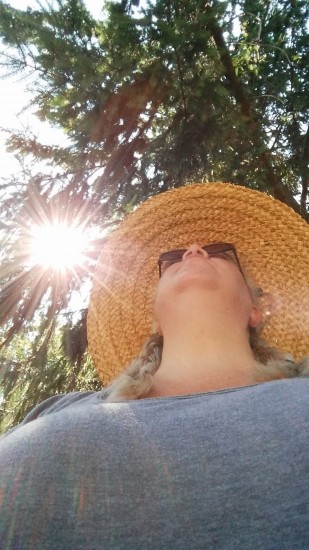 Why is it that women our age spend so much time looking down? Now, I know young women who spend a lot of time looking down but I'm talking to those of you a little bit older. I see it all of the time. No eye contact.  Maybe you think that if you look down you will disappear. No one will bother you. I think you are right you DO disappear.
Don't look down. When you look down in a situation where you feel uncomfortable you become an easy target. Strange man passing you by on the walking path? Don't look down. Look him right in the eye. He will think twice if he's up to no good.
I have an acquaintance I see around town now and then and I saw her at my doctor's office a couple of weeks ago. She was looking down. Down at her jacket, handbag and even her fingers. I figured she was having a bad day and wanted to be left alone. It's OK, no biggie. So the next time I saw her  she said, "I saw you at the doctor but you didn't speak to me." Ummm. Nope. I thought you were having a bad day or wanted to be left alone. I get it, I have those days sometimes too. Don't look down.
Warren and I had been to the grocery store and  he was getting on my nerves a bit, nothing major – just that thing that husbands do after 17 years together. We were in the parking lot and he was putting groceries in the trunk of his car the way HE wanted to put them. I looked up at a woman who was passing by and rolled my eyes at her. She just laughed and laughed all the way into the store. It was just a funny moment between two middle-aged gals who understood one another in a quick moment.
Here is when it is good to look down – picking up shells at the beach, looking for "found objects" for a mixed media art piece, picking potatoes, weeding the flower bed, and walking a train trestle (I'm kidding on that last one – don't ever do that!).
Women our age are often heard complaining that we somehow become invisible after a certain age. My guess is that the world sees a lot of the top of their heads. In some small way this invisible-ness might be something we are doing ourselves. Don't look down.
Look at the big beautiful world and take it all in.
Look at the eyes of a stranger and see yourself in them.
Look at your loved ones and try to express your love with just your eyes.
Look around to see where you can  help.
Look around and let the world see your beautiful face.
But for heaven's sake. Don't look down.