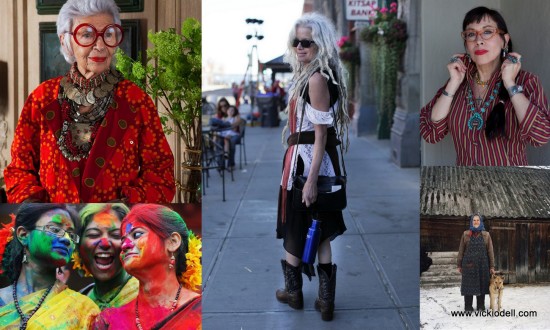 Rather, than Who do You Want to Be? the title should be Who do I Want to Be?
I've been giving this some thought lately. Now that Kiddo number 4 has moved out and Kiddo number 3 is getting married later this week I've started wondering who I want to be in this next act.
Am I gonna give into my internal Iris Apfel (top left) and go crazy with color and collections? Maybe I'm gonna be like Pearl (top right) from Advanced Style and own that bad ass artsy chick vibe?
Maybe I'll just hole up in my little cottage on the hill and be a hermit? Nah! That would never do.
I think the real question to ask is, "How do you/I want to feel?"
Want to be a bad ass art chick who also volunteers in the community to feel a sense of purpose?
Want to garden your green thumbs off and donate some of your produce to the local food pantry so you can feel like a contributor?
Do you want to make and sell your creations so you can feel abundant or independent?
How do I want to feel from 49-79?
It's a good question and I have a couple of pieces of poster board around here. I think it's time for a Desire Map.
So how do YOU want to feel the next several years? Do you know? Have you asked yourself?