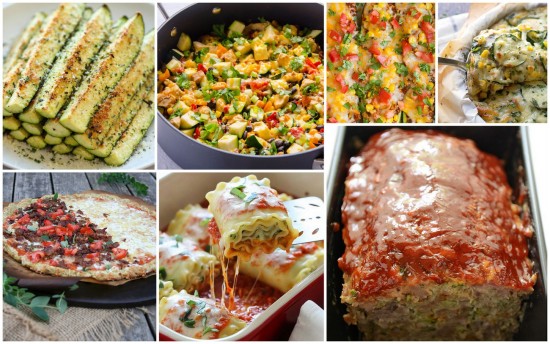 Yeah, yeah. We all know you can make zucchini bread and zucchini muffins but if you are tired of the same old zucchini recipes and looking for something a little different I'm your gal. The straw bale garden is producing zucchini just about faster than we can eat it and my kids are all starting to say "No Thanks" when I offer them some to take home.
Sure, I will freeze some but then there is still plenty to go around. So I did some digging around on the internets and found some recipes to try out and I thought I'd share them with you.
Baked Parmesan Zucchini from Damn Delicious – Love these long spears. Add a protein and a couple of these bad boys and it's a good dinner. Well, maybe a fresh sliced tomato would make it even better?
I'm not much for the "D" word but this recipe for Zucchini Meatloaf on Diet Taste looks great. Plus it's a sneaky way to add vegetables to your kids – or even your husbands – diets.
It's not easy to stay on track when you are watching what you eat but this recipe for Three Cheese Zucchini Stuffed Lasagna Rolls is great because it's easy to control the portions.
If you are like me an you LOVE Southwestern and Mexican flavors, you will want to try these Chicken Enchilada Zucchini Boats. They are on my menu for our next family dinner. We'll see if my new Latina son in law thinks they are as good as I do.
I NEVER in a million years would have thought to create Zucchini Pizza Crust! I have a baking stone here somewhere. It's time to dig it out!
30 minutes and DONE! That's my idea of a weeknight dinner. Try this One Pan Skinny Tex Mex Chicken and Zucchini for something quick and healthy on those crazy busy week nights.
Sweet Corn and Zucchini Pie can be made with or without a crust. You know, just to mix things up a little.