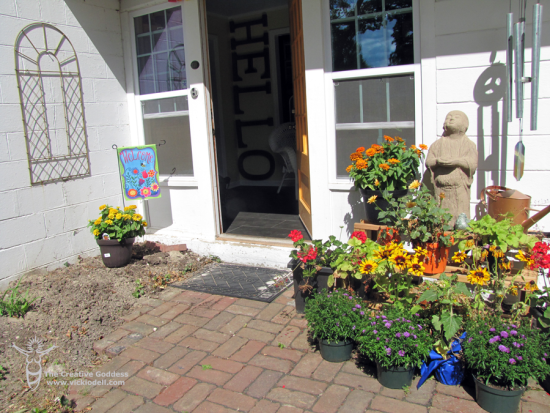 You know, I don't post many makeover types of things because around here it's never a complete makeover. Take this front porch makeover. I've shared the DIY Plant Display and the 1980's Shelf Makeover but for me, decorating is a process. I'm not one of those to run out to the home improvement store and then to accessory stores and make over a room in a weekend.
Ain't nobody got time – or money – for that! Not around here anyway.
My rooms evolve.
I collect things.
I collect new plants every time I go to the home improvement store and even to the grocery store. Several of the plants above are waiting their turn to get planted in the proper beds.
I collect room accessories all over the place. Flea markets, thrift stores, and even from my friends and family.
You will see more of what I mean when I show you this front porch makeover.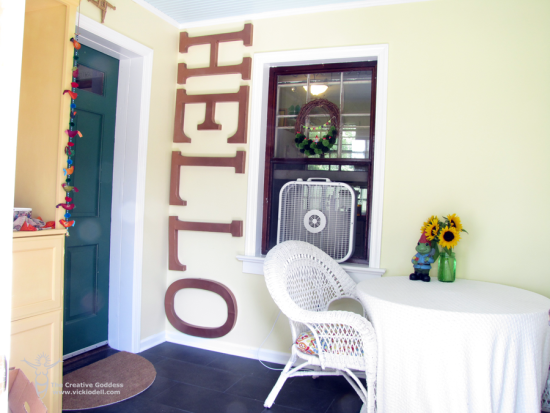 One of the first things you see when you open the front door is the giant HELLO I made – tutorial coming soon.  I love that it takes up that entire space and adds some height in a place where a tall piece of furniture wouldn't fit.
It balances out the tall plant shelf and the tall shoe cupboard.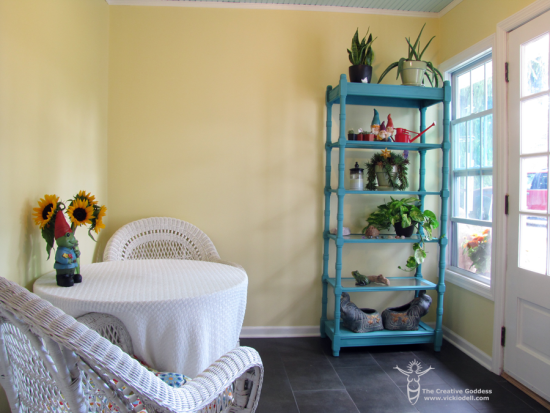 Our dining nook is perfect for two empty nesters.
We've enjoyed breakfast, lunches and dinners out here for a few weeks now. It's lovely.
I found the table and wicker chairs on Craig's List one weekend and used a vintage blanket as a table cloth for now.
The seat cushions I found at TJMaxx. They were the only pair left and on clearance. PERFECT!
To the right of the door is the shelf I painted. I love seeing plants growing on this shelf.
I had to put the snake plant and aloe vera on the very top shelf because when they were on the floor Poppy kept digging in the dirt.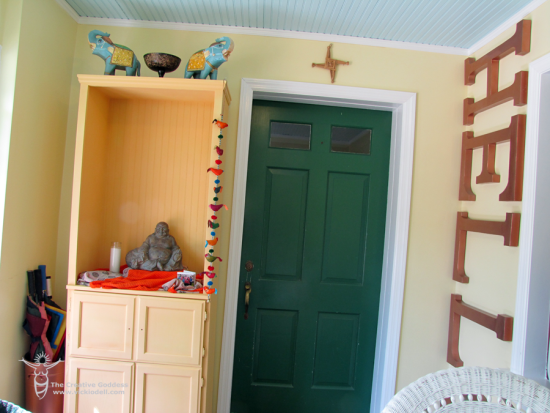 This shoe cupboard went from a pale green to a lovely golden yellow thanks to Krylon Chalky Finish Paint I had left over from another project and the umbrella stand went from something that belongs in the apartment with the Man in the Yellow Hat and Curious George to a copper that matches the HELLO.
I have plans for the space in the shoe cupboard but I have to create or collect things needed to make it happen. I will write more about that later.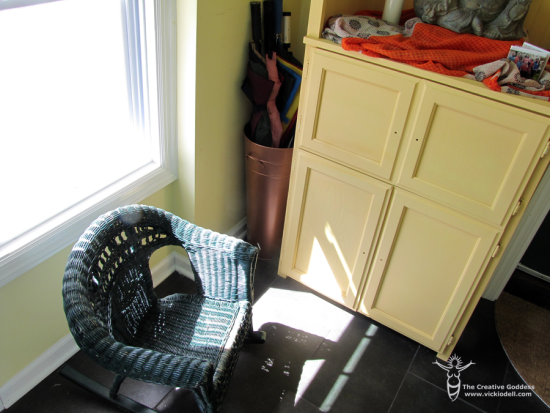 There is more to be done. 
I need new knobs for the doors of the shoe cupboard but I haven't fallen in love with anything yet.
And the little wicker chair needs a fresh coat of paint.
Now that I have a 3 year old grand daughter (My daughter got married last weekend!) this chair gets all sorts of use.
And I have to decide what needs to go on those two walls in the corner.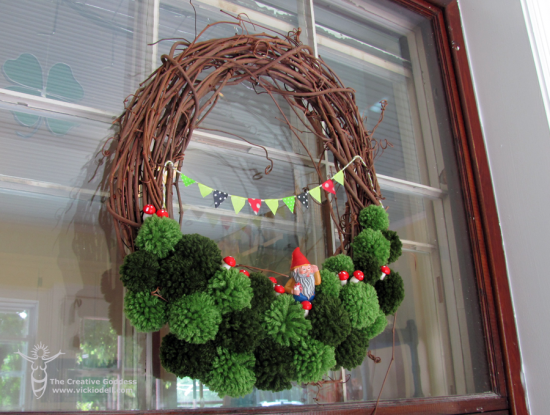 And my Gnome Pom Pom Wreath found a home too!
I love the colors of the new floor tile, walls and ceiling. Everything looks so fresh and bright.
Now I have other rooms that need my attention while part of my brain thinks about what I will put on the walls and in the shoe cupboard.
I will know the perfect pieces when I come across them. 
Here are a few more posts showing how the front porch (and my blog) have evolved over time. Just don't laugh at my photos, OK?
Thrifting Thursday – Front Porch Makeover
Changing Things Up – A Front Porch Room Makeover
Are you the kind of person who has to make over a room in a weekend or does your decor evolve over time?