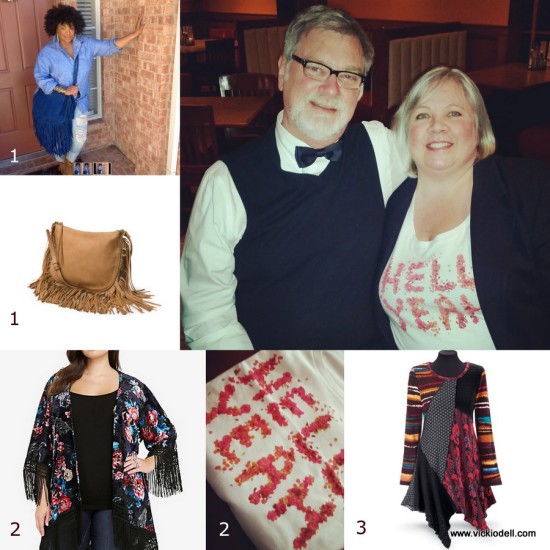 I've recently started following several plus size fashion blogs and instagram accounts. I'm not sure if it is the winter doldrums, a breast cancer wake-up call or simply a desire to feel pretty. But I'm super into fashion at the moment.
Do you think it might be because I've had to undress for MANY medical professionals lately? Maybe.
Maybe it's simply an extension of my jewelry making?
Maybe all of the above?
Anyway, I've always liked buying clothes and it used to irritate me to no end that I couldn't find plus size clothing that appealed to me. I've been a big girl since birth and while I will continue to eat right and exercise the chances of me becoming a size 2, or even 10, are nil. And that's OK. I'm learning to be OK with my body. And thankfully, the world is waking up to the concept that different bodies come in different shapes and sizes and there is more available to those of us with ample bosoms and bums.
In any case, I thought I would share some of my favorite recent finds with you.
1. I stumbled upon the Instagram feed of The Shopping Slayer when Plus Model Mag re posted one of her outfit choices on their feed. The blue leather fringe bag grabbed my attention. You can see more images here. I followed the link to The Boho Bazaar as linked to in the post and was disappointed to find that the bag was beyond my budget at $259.00.
So I did some hunting and found a smaller crossbody bag CARLOS BY CARLOS SANTANA Fringe Convertible Crossbody at TJ Maxx for only $34.99. The shipping is free if you give them your email.  I also found other fringe bags just by searching "Fringe Crossbody" in the search bar.
Why was I obsessed with a fringe bag? 1 – have you met me? I'm sort of an earthy, gypsy type and the fringe was something I NEEDED. NEEDED. 2 – Not that I'm a big trend follower but fringe is going to be really big this spring and 3 – I love a small crossbody bag that will hold cards, keys and chap stick yet let me dig through finds at the thrift shop hands-free. So yeah, I bought it.
2. Another new to me find is Torrid. Yeah, apparently I live under a rock. My first purchase from Torrid late last year was this great Velvet Floral Open-Front Fringe Kimono. I love it so much that I bought a few other items since then. So far I've loved everything I've purchased. Yay!
I also bought the "Hell Yeah" T-shirt from Torrid because it just fit my post breast cancer outlook. I want a lot more "Hell Yeah" in my life. I wore it out to a big dinner celebration I had with my family a few weeks ago celebrating the end of treatment.  All I know is that I can't drink TWO margaritas no matter how small they look.
3. Just before CHA I bought L'Artiste Tunic from Pyramid Collection and I'm crazy about it. I love the way it fits and feels. I had never ordered from Pyramid Collection before but I decided to give them a try. I also purchase another tunic the exact same size but it was too small. They apparently have sizing issues so if you order be prepared to send things back.
I think that my interest in fashion is simply an extension of the rest of my creative lifestyle. It's all about expressing who I am what is important to me by wearing clothes, jewelry and other accessories that fit my lifestyle and aesthetics.
Do you express yourself with your clothing, jewelry, hair, tatoos or other decorations? I'd love to hear how you show the world who you are and what is important to you.
[mc4wp_form]