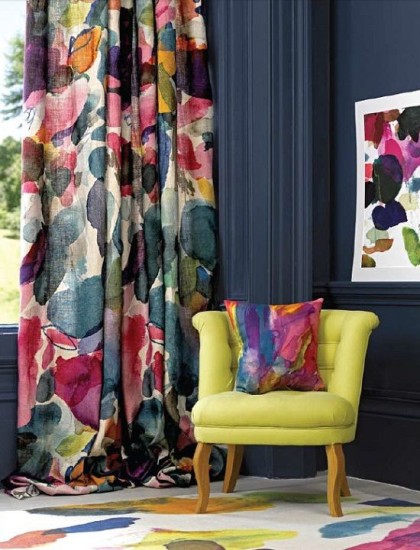 It's been a rough couple of weeks. I've been going through a "is it back?" kind of breast cancer scare and still don't have any answers. At one point they thought I might have cancer on my spleen but it has been determined that it is a cyst. Whew!
It's amazing that I can feel confident that I am all right but at the same time totally stressed out. It makes it hard to sleep and it kills my creativity. But I'm still here. Still learning, growing, and loving on you all. This will all pass and I can get back to my insanely busy/happy life.
Here are some fun things I've found lately.
This new line of watercolor inspired fabrics from BlueBellGray has me drooling all over myself. If it weren't for that price tag I'd buy enough to cover my entire house. So I'm slowly trying to cook up a way to create something inspired by it on my own that is much more budget friendly. I'd really curtains with this watercolor look. Oh WHY do I have to have such expensive taste??
I'm  pretty crazy about walnuts but they are high so in fat. Now I'm going to eat a few every day no matter what just because walnuts are good for my heart. The trick will be to keep the portions SMALL.
I'm not a big lover of steamy summer days but I am a lover of cool, refreshing drinks. The drinks in this 10 Delicious Drinks for Summer round up are also BEAUTIFUL.
Sheryl Sandberg nearly broke me with this letter regarding her First 30 Days of Widowhood. I think every human being in a long term relationship can understand what she is feeling. At least a little.
A crafty friend of mine has started a new blog with tasty Weight Watchers friendly recipes – be sure to check out Fat Crafty Chick for some new recipes.
Also, I've been toying with the idea of a meaningful  tattoo inside my right arm that sort of expresses things I've learned from this breast cancer journey and I think Elizabeth Gilbert helped me decide on it. And the white ink is PERFECT.
"We must have the stubbornness to accept our gladness in the ruthless furnace of this world."  ~ Jack Gilbert