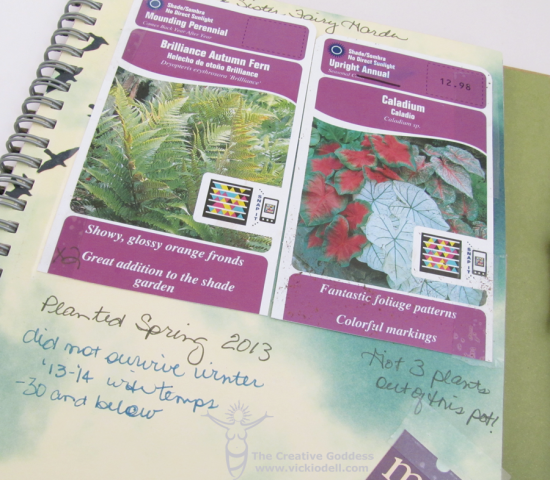 If I have one journal I probably have half a dozen.
I have a journal where I jot down notes about changes I make in the back-end of my blog as I make them so that if things go kaput I have an idea of what has gone wrong.
I have a journal where I write down business notes from various classes and seminars that I take.
A journal to record things that go on in my Artisan Guild.
And, of course, I have my private journal that is basically thought vomit.
I also have a garden journal (I wrote about it here) and I felt that it was high time I caught up on it for this year.
First, I made notes on last years' plant cards noting that the lovely ferns I planted didn't make it through the winter. The card that came with them said they would survive to -20° but we got to -30° or lower several times.
I didn't pull out the plants, just cut them back to the ground. The optimistic part of me is hoping they will revive next year.
Gardeners are optimistic to the point of silliness sometimes.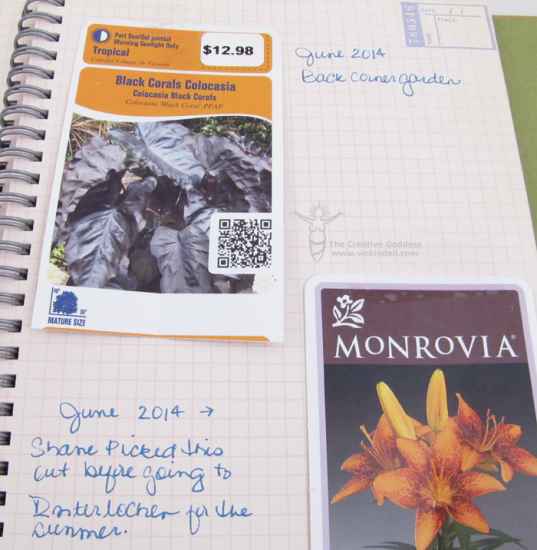 I recorded new plants I have purchased along with a note about the lily. It's not a plant I would normally buy but Shane (my youngest) really liked it and he was leaving to work out-of-state for the summer so I got it.
It bloomed and made me miss him like mad. Not a good choice.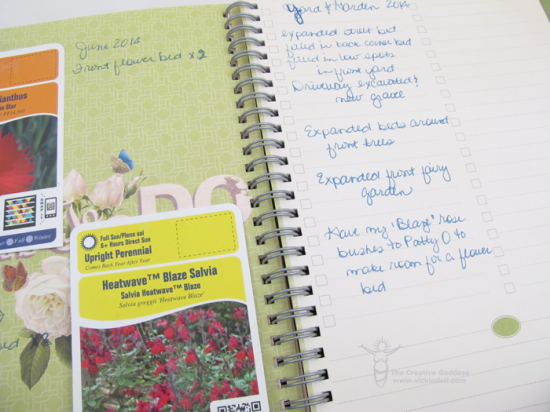 I haven't bought too many plants this year as I've been doing more HEAVY DUTY work.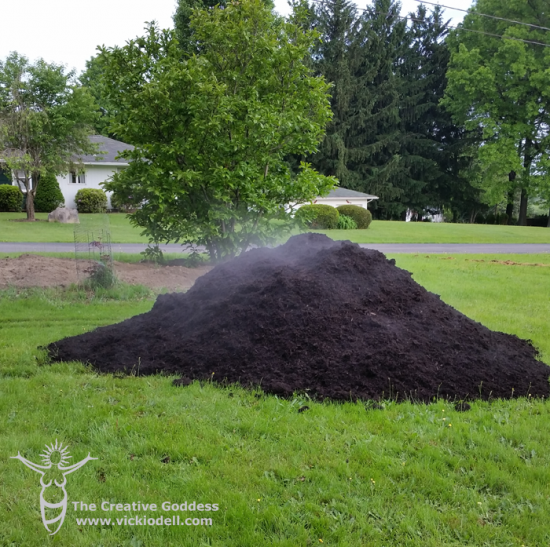 So far I've forked out 6 yards of mulch, moved 2-3 yards of soil and replanted or moved a few things.
I filled in a low area in our front yard that used to fill with water after every heavy rain, watched two men re-grade and gravel our drive way and then cleaned up the mess they left.
I have one more bed that needs serious attention and one new bed to install and then I'll be back around to re-weed the beds I've already cleaned out.
I've discovered this year how much I truly love doing yard work and it was fun to look back though the garden journal to see old plants, gardens and notes.
Here are some other things I have included in my garden journal:
Notes about damaged or dying trees
Sketches of new beds – I sketch these out on grid paper and then tape them into the journal
Photos of old pick up trucks – it's a dream of mine to have a cool OLD pickup to schlep my garden supplies around in
How well various new plants look the following year
Notes on where I purchased a plant and how much it cost along with the receipts
Notes about why I bought the plant – sometimes
A calendar with dates circled when I fertilize or feed potted plants
Notes about pests or other factors that damage plants
Do you keep a garden journal? What types of information do you record?