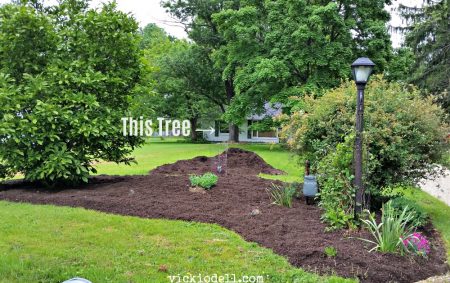 Timber!
A few weeks ago we had four trees cut down. 3 of them were deader than dead and the other one hung too far over my garden, it was a young oak and I knew it was going to get much, much bigger.
And more expensive to remove.
So as much as I hate to see a healthy tree cut down it had to go. But don't worry, I have plans for using that wood too!
Anyway, you can see the lower portion of the tree (maple) in the photo above from 2014. It was a big one with another one of equal size only about 20 feet to the right of it. A full two-thirds of the top of the tree was so dead that the woodpeckers had stopped nesting in it.
And wind storms of even mildest sort threw branches down onto the yard and house. Not safe, my friends. Not safe.
It was the first one to come down.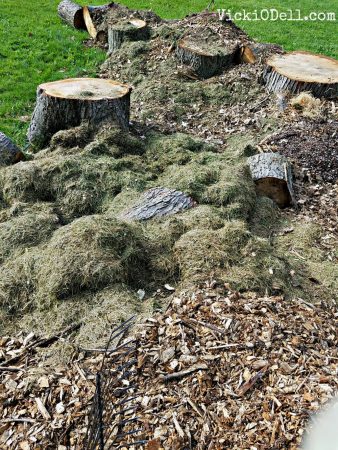 Don't waste that tree!
Being the sort of gal who tries to get as much mileage out of all of my gardening resources as possible I asked that the tree company NOT remove the cut pieces but leave the trunk and limbs in manageable sized pieces. I also had them dump the wood chips they created in a corner of my yard to be re-used. I didn't want to waste the tree. Not even a little bit.
And this is what that area looked like a few days later. I arranged all of the logs (NOT an easy job!), added the wood chips and grass clippings to create the rough outline of a new raised bed. I connected this bed to the area under the remaining maple to make a very long bed that makes mowing easier for me.
And then I got down to work. More work, that is.
Dreaming of a Yellow Magnolia Tree
I've been dreaming of having a yellow magnolia near where that maple was. Just to the left of it so I can see it in bloom from the living room and bedroom windows. I don't know why or where but somewhere a few years ago I heard someone speak the words, "yellow magnolia" and I had to have one. I searched and searched to find one that will survive my USDA Hardiness Zone 6a landscape. I finally found one – Magnolia 'Elizabeth' at Wayside Gardens.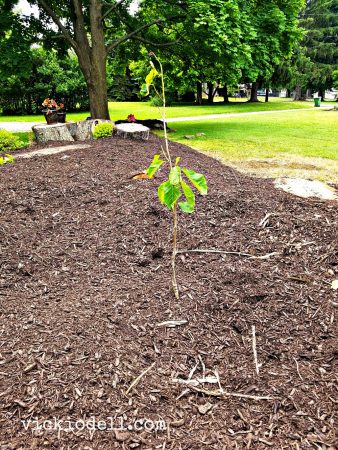 I'm not gonna lie. I was disappointed when this twig showed up. The description says "trade gallon" so I was expecting a gallon size pot and a tree that was sized accordingly. I'm lucky if this pot was quart size but I planted it anyway and am keeping my fingers crossed for my little twig.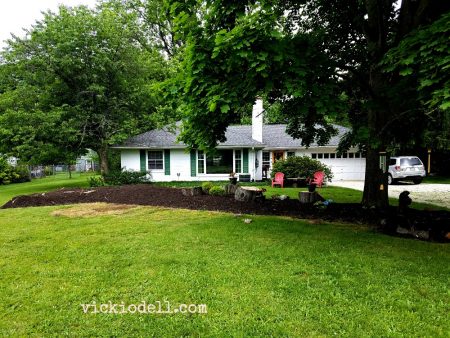 More Work
And then I ordered 10 yards of mulch. A good chunk of the mulch landed here but some went to other beds as well. I'll share those later.
I added a few of the stumps that were too big to hide to the center as well as a couple of shrubs. There are a few Hostas and Heuchera 'Coral Bells'.
The deepest part of the bed is probably two feet deep but that will not last long. In a year or two I will be lucky to have a small bump where that bed is as things underneath break down and become gorgeous, healthy soil.
This hugelkultur raised bed saved me from a HUGE amount of digging, buying top soil or paying extra money to have that tree hauled away and in the end I will have gorgeous soil.
How do I know?
This isn't my first hugelkultur rodeo you know.
Have you built beds this way?