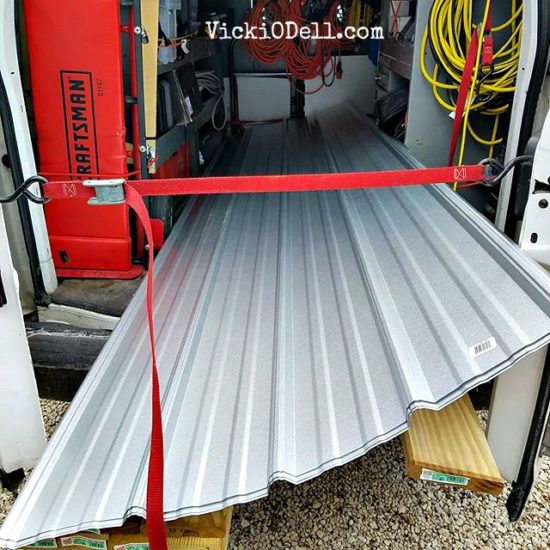 Sometimes my ideas are fantastic and they work out really well. This latest one however has turned into nothing short of madness. Definitely not my easiest or cheapest plan.
You see, I have this working idea rolling around in my head about "gardening in place".
You may have heard about people who are "aging in place" by making their home more suitable for aging bodies. Grab bars in showers, pedestal sinks, lever type door handles rather than knobs. It's a way of making it easier for us to stay in our homes as we age.
So gardening in place is the same-ish idea. I'm 52 and, as you may know, I love being out in my gardens. BUT how long am I going to be able to get down on the ground and crawl around planting and weeding?
I moved to straw bale gardens a few years ago. Which has served its purpose. I am able to garden without crawling around on the ground and weeding is almost non-existent.
But hauling those straw bales? It's not much of a challenge for me yet but I know that some day I will be unable to move them around. AND there is the expense of buying new bales of straw every year. Usually around $150. And that's without fertilizers, plant food and plants!
Yeah, that might get to be a challenge. Both physically and financially.
So I've planned some awesome raised beds. 3 feet high with pressure treated wood on the OUTSIDE away from the plants. Built like small army bunkers – because my husband builds things to LAST. And using metal and weed block for little to no weeding.
Oh! And did I mention that with the smallish greenhouse my son bought me for Christmas I can garden EARLIER and LATER than usual here in the frozen tundra of NE Ohio?
BONUS!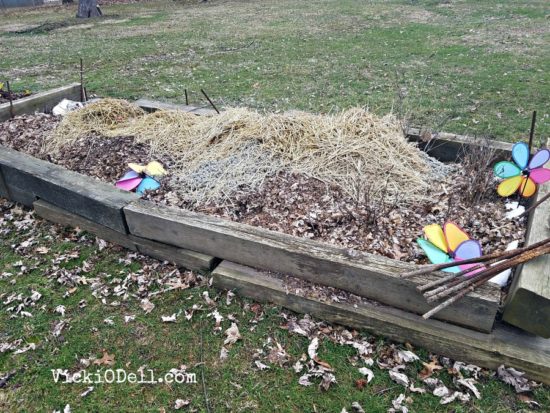 This is what my herb beds have looked like the last two years. Scrap landscape timbers cobbled together with some good dirt inside. I've been dumping the bottom of the rabbit cages into it all winter to add to that dirt.
But it's so ugly!
And it's what I see when I look out the kitchen window multiple times a day. Oh! And it's still pretty close to the ground.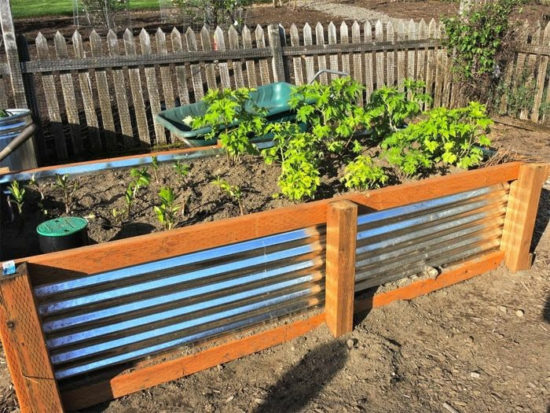 This is more like what I want to see out my kitchen window and it's far more feasible for a gardening in place plan.  I can see me now out there with a basket and snips gathering herbs for dinner or even tea well into my 80's. With luck, good food and some exercise.
Meanwhile, I'm removing the landscape timbers, soil and rabbit poo and prepping the spot for my new raised beds. Warren has one of them built with one more to go – just the kitchen herbs that I regularly use. It's been a lot of work but the beds are built like tanks and won't need to be replaced for many years.
I'll update you on my gardening in place plans and share the ins and outs as we go. It will likely take me a couple of years to get it all set up as I'm working on other things. Also, I'm not a trust fund baby so I need to spread the expense out a bit.
I can't help but be excited about how great this will look and how much easier it will make my gardening as I get older.
What types of gardening in place plans do you have or is it something you haven't given much thought to?