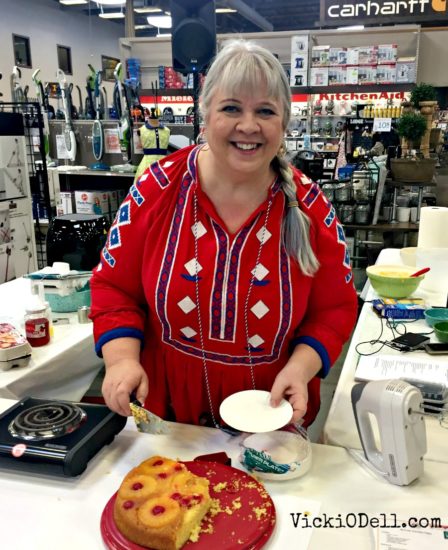 Appearance at Hartville Hardware Home and Garden Show
Dang, where has April gone? On one hand it still feels like mid March outside but on the other, we are picking up our tax packet (The joys of having two business owners) from the accountant to be mailed out later today. That and the whole Mercury Retrograde thing seem to have me all out of sorts.
Where has the time gone?
I was thinking about all of this today as I was scrolling through photos on my phone. You know, searching for digital proof that I did something other than sit on my bum and crochet the first two weeks of this month!
This photo is one my future daughter-in-law shot during the first demo at my Hartville Hardware Home and Garden show appearance a couple of Saturdays ago.
You guys! I had so much fun and handed out so much pineapple upside down cake, air fried goodies and sorbet made in the Yonana. Don't worry, I'll have recipes here super quick!
But for now you can check out this one Personal Size Pineapple Upside Down Cake that I created for a family gathering a while ago.
Help!
The folks who work at Hartville Hardware couldn't have been nicer or more helpful. I looked up from cutting cake at one point to see people stacked 5 deep listening to me talk on and on about Lodge cast iron cookware and tasting cake. The ladies who swooped in to lend a hand saved my bacon. Otherwise I think I would have been completely overwhelmed.
I also got to talk about gardening, fairy gardens and home decor and I will definitely have some ideas for you all on that soon too.
You guys rock!
I enjoyed meeting some of the readers of this blog in person. Just like I expected, you all are pretty fabulous! Thanks for the hugs and for hanging out with me for a while.
I hope that I get to do something like this again soon. I want to spend some time with some of you again!