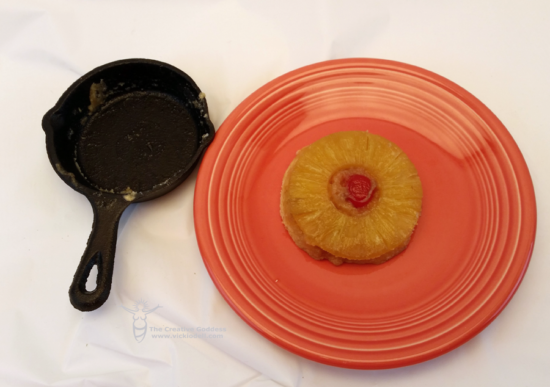 Pineapple Upside Down Cake is one of those things that I forget how much I like it until I have it. It's one of those desserts that doesn't come to mind often but I'm not sure why. The cake is moist and the pineapple and maraschino cherry covered in brown sugar and butter add sweetness without the super sweetness you get with frosting. Plus it is super easy to make!
And of course, because I'm me I had to make mine a wee bit different and make Personal Size Pineapple Upside Down Cake.
This Personal Size Pineapple Upside Down Cake Recipe is great because it makes single portion desserts that are the perfect size. Not too much and not too little.
This post contains some affiliate links for your convenience. Click here to read my full disclosure policy.
I purchased 8 of the mini cast iron skillets for my family but you may not need that many. You can buy 4 of them here or 2 larger 5 inch skillets here.
The mini cast iron skillets are the perfect size for individual portions
Personal Size Pineapple Upside Down Cake
Ingredients
1/4 cup butter or margarine
2/3 cup packed brown sugar
slices pineapple in juice (from 14-oz can), drained
maraschino cherries without stems, if desired
1 1/3 cups Gold Medal™ all-purpose flour
1 cup granulated sugar
1/3 cup shortening
1 1/2 teaspoons baking powder
1/2 teaspoon salt
3/4 cup milk
1 egg
Directions
Heat oven to 350°F.
Place 9 small cast iron skillets on a large cookie sheet. Add butter -divided evenly to skillets – melt butter in oven. Sprinkle brown sugar evenly over melted butter. Arrange pineapple slices over brown sugar. Place cherry in center of each pineapple slice.
In medium bowl, beat remaining ingredients with electric mixer on low speed 30 seconds, scraping bowl constantly. Beat on high speed 3 minutes, scraping bowl occasionally.
Pour batter over pineapple and cherries being sure not to over fill.
Bake 50 to 55 minutes or until toothpick inserted in center comes out clean.
Immediately place heatproof dessert plate upside down over the cast iron skillet and then turn plate andskillet over. Leave the skillet over the cake a few minutes so the brown sugar mixture can drizzle over the cake and then remove the skillet. Serve warm.
This same recipe can be made in a large cast iron skillet too! In fact that's the way I always had it when I was growing up.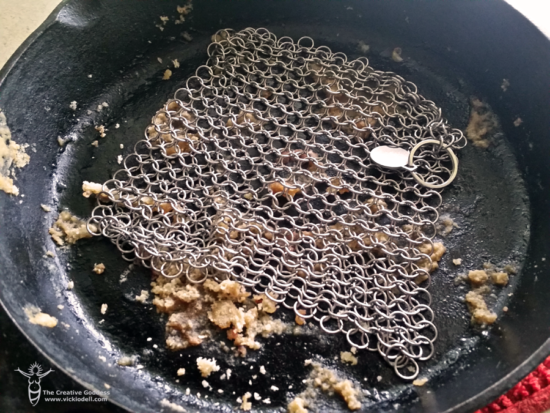 Now, those of you who aren't used to cooking with cast iron may not know that you aren't supposed to wash it the way you usually wash dishes. There is a trick to keeping cast iron seasoned so that it's pretty non-stick. I found a great new product for cleaning up cast iron in a jiffy and I will share that along with a review tomorrow.
Do you cook with cast iron?