I'm not one for making New Years Resolutions but I do believe in fresh starts. And I believe in giving ourselves a fresh start more than once a year. I don't know a single person who can make a resolution in January and still be working on it in October. Do you? I also believe in books – never did catch on to the e-reader thing – and January is National Book Month. I'm kind of a self help book junkie. Whether I buy them or borrow them I like learning new things and taking away what I feel ONLY applies to ME or my life at the moment. That is, I don't feel like I need to incorporate every single thing the author writes about like some chore list. I pick out the pieces I think apply to me and what I'm dealing with at the time and incorporate them into my life in a way that fits for me.  No stress, no guilt. 

Still reading this one.
Anyway, I thought I would share a list of some of my favorites from over the years. Books that have helped me work through my "thinks" in one way or another. (List includes some affiliate links.) In no particular order.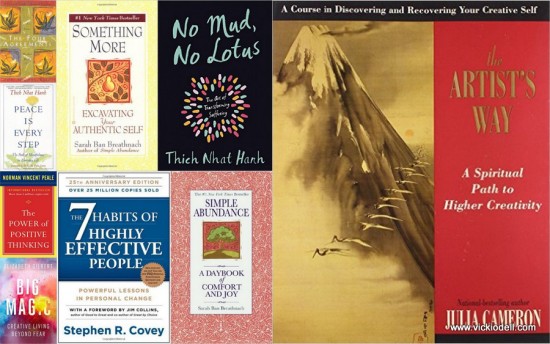 Most of those listed are ones I've hung on to. I've purchased and donated so many books over the years I couldn't possibly keep track. I only hang on to my very favorites and donate them when I don't think I will read them any more. And yes, I have been known to donate a book and then turn around and check it out of the library several years later. Life is fickle like that and so am I.
What kind of books do you read? How do you feel about New Years Resolutions?