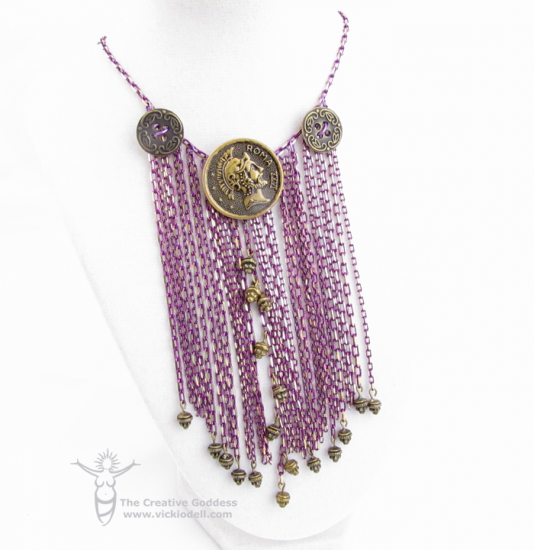 It seems lately that when I design jewelry I have a hard time finding chain. Especially in my local bead shops. I'm not sure why but it seems like chain is so hard to get my hands on.
So when my friend Carmi Cimicata, on behalf of The John Bead Company, asked me to participate in a blog hop for Dazzle-It's newest product line and it involved chain…well, I was all over it.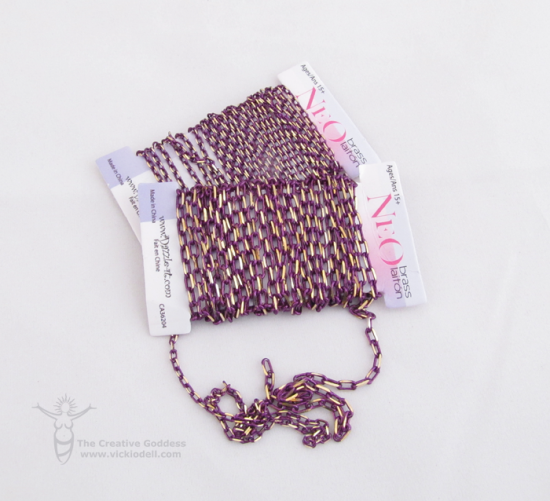 I was super excited when I opened the package to find that the chain she wanted me to focus on was purple. Does she know me or what?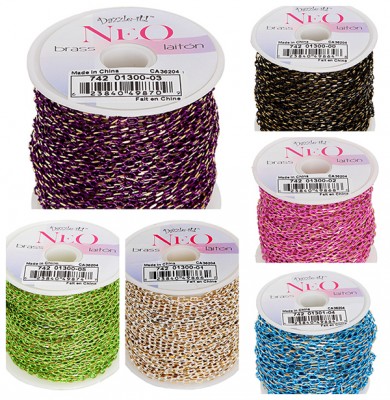 But don't worry, Neo Chain comes in several vivid colors and two sizes.
I really like the Neo Chain. I found that the color does not flake off even when I cut the chain. And I also like the way it's cut so that the metal underneath the color shines and sparkles. It just adds a little something extra to my jewelry piece.
So here is how I made my necklace.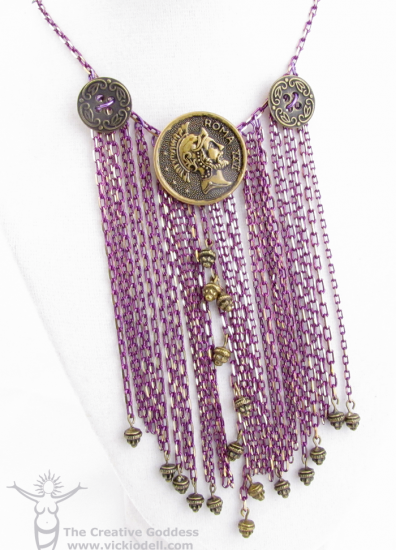 Supplies:
1 pkg large chain
1 pkg small chain
1 large vintage button
2 smaller buttons
18 decorative headpins
Jump rings 6.5mm and 4.5 – purple
Lobster closure – purple
Directions:
Create a simple chain necklace to desired length with a lobster clasp and 6.5mm jump ring for closure.
Cut the necklace exactly in the front center and add a 6.5mm jump ring.
Add a length of neo chain to the center jump ring. This length of chain will be the longest length for the center drape.
Cut a section of small and a section of large chain to the desired length. Mine is about 3.5 inches long.
Add the two lengths of chain to a 4.5mm jump ring and attach to the necklace chain one or two links from the center.
Continue cutting large and small chain and adding it to a 4.5mm jump ring and attaching to the main necklace chain on either side of the center. I have 7 jump rings with chain on either side of the center.
Add the large button to the center 6.5mm jump ring.
Add the smaller buttons to each side with a 6.5mm jump ring.
Add the decorative headpins to the necklace with simple loops.
NOTE: John Bead Co. does NOT sell direct to the consumer – they are a wholesale company.For information on their products please visit www.dazzle-it.com or visit them on their FaceBookpage or their BLOG.
Disclosure: Neo Chain was provided for my use in this blog hop. All opinions are 100% honest and my own.