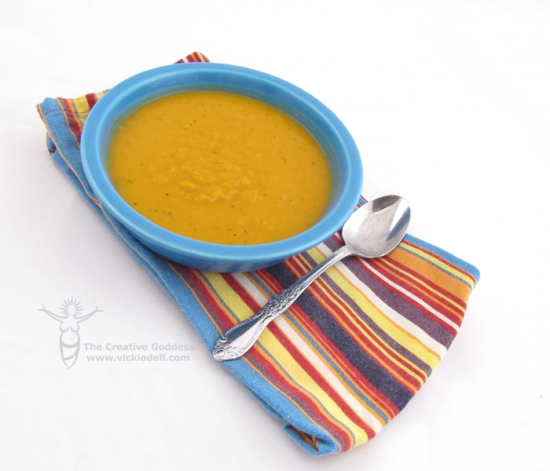 I've been tweaking this recipe for the past couple of months and I think I finally have it just the way I want it.
Warm and healthy with just a tiny bit of heat to it. It will warm you right up.
Sweet Potato and Butternut Squash Soup
1 Tablespoon Butter
1 large onion – sliced thin
2 cups low fat , low sodium chicken broth
1-2 cups more low fat, low sodium chicken broth – hold until the end
1 Medium sized butternut squash – peeled and cubed
2-3 medium sized sweet potatoes – peeled and cubed
2 large carrots, peeled and sliced
1 1/2 teaspoon crumbled dried sage
1/2 teaspoon ground mace
1/2 teaspoon ground ginger
1/2 teaspoon Sriracha hot sauce
salt
Heat the butter in a large soup pot. Add the onion and cook over medium-low heat, stirring often until the onion is soft and golden brown. About 10 minutes.
Add 2 cups of the broth, squash, sweet potato, carrots, sage, mace, and ginger and bring to a boil. Cover and cook over low heat until the vegetables are very tender – 20-25 minutes.
Puree the vegetables with a submersible blender.
Add in the remaining broth to the desired consistency – I like mine pretty thick so only add a little more broth, but you can add up to another 2 cups.
Season with hot pepper sauce and a little salt to taste.
*If you don't have a submersible blender you can puree the vegetables in a blender or food processor in batches and then return to the pot to finish the soup.