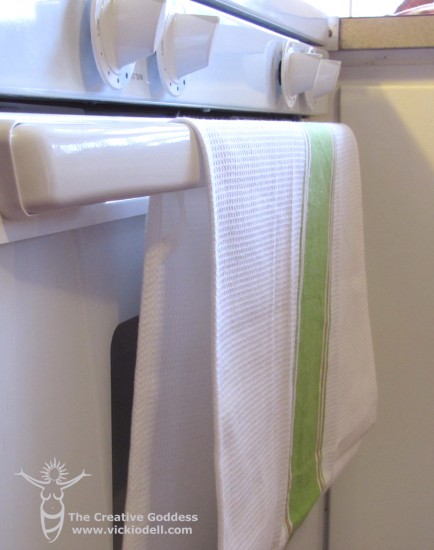 Who had the bright idea of putting a WHITE hand towel in the kitchen?  Um, yeah, that would be me and my Stay Put Oven Door Towel post. That towel isn't that white anymore (yuck!) so I decided to make more oven door towels. But I wanted an easier way and came up with the no-sew stay-put oven door towel.
AND I made them in colors that won't show dirt quite so easily. Yay!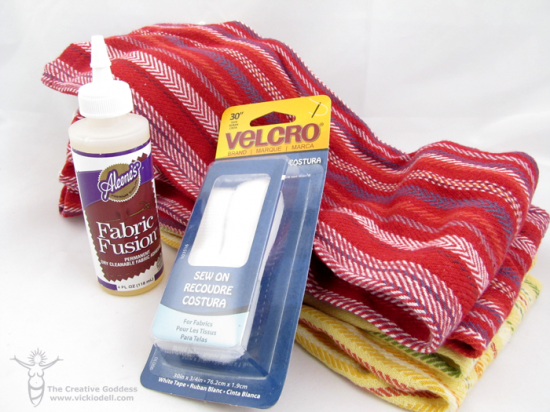 I found these dish towels at Kohl's and used a coupon making them not quite so spendy.
One of the things I didn't do with my other stay-put oven door towels was pre-wash them. They buckled a bit after washing. It wasn't a terrible thing but they didn't look quite as nice after washing.
So I pre-washed these.
One pkg of Velcro will do two towels.
Simply cut the Velcro to the length of the end of the towel. Put a little Aleene's Fabric Fusion onto one half of the Velcro and adhere to the towel. Place the second half of the Velcro over the glued down half, apply glue and then press the other end of the towel in place.
I did all four towels at once and then put a heavy box of tile on them to hold them down while the glue dried.
Let set for a few hours and then remove the  box of tile.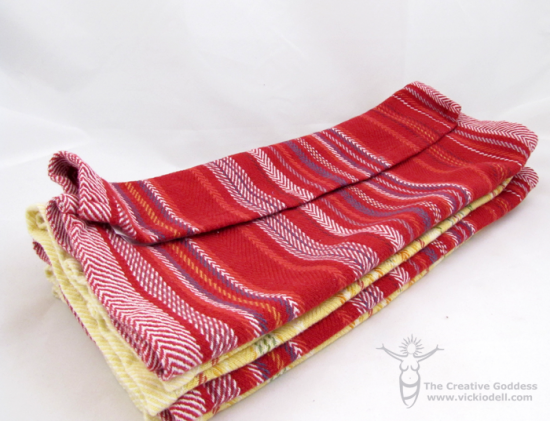 Viola! New No-Sew Stay-Put Oven Door Towels that took less than 15 minutes to put together.
I have a feeling a couple of my kids will be getting some of these for Christmas!
How do you keep your dish towels and hand towels separate in the kitchen?