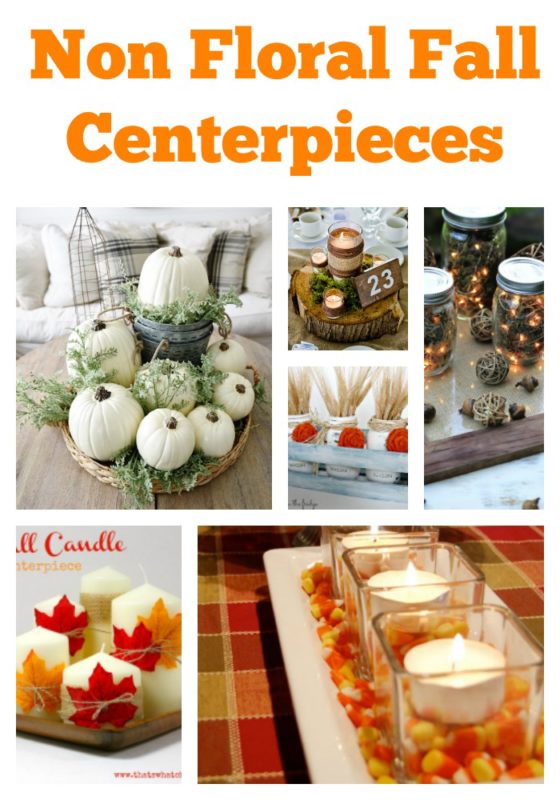 I like to change up the centerpiece on my dining table and a few other tables around the house seasonally. Unfortunately, flowers can be expensive, especially if you are decorating multiple rooms. So I decided to take a walk around the interwebs and see what kind of inspiration I could find for non floral fall centerpieces and I'm taking you along with me. Go get your shoes.
The first one I came across was this neutral beauty from the Liz Marie Blog. While it does have a bit of greenery in it you could easily use what I call "forever flowers" that won't fade or wilt. I'm sure you could also use preserved leaves if you are a color lover like me.
While this centerpiece was created for a wedding it would be super easy to create something similar for a table at home. Thank you Wedding Ideas Blog for the inspiration!
View from the Fridge used Mason jars too. I like how the orange pops in this one. Simple to make and you probably already have many of the supplies on hand.
The Firefly Lanterns from Lil Blue Boo are simply magical. I'm sure the kiddos would love to imagine that there are fireflies inside the jars.
While Addicted to DIY created her own crate for this one I know I probably have one around here somewhere. Or maybe the drawer to an old sewing machine?
Easy and affordable is what I call this pretty candle and leaf centerpiece from That's What Che Said. One of the things I like most is that you could probably get the supplies for this in just one stop at the craft store.
And Crafty Teacher Lady shows how one trip to the dollar store can result in a fun centerpiece. Be sure to check out the other centerpiece she has created too.
Pro tips for using candles:
Remember when using candles to never leave a burning candle unattended
Don't use scented candles. The fragrance may overwhelm the smell of food or agitate your guests.
Burn down the center of the candle until there is an opening for a battery operated votive and replace the live fire with battery operated fire. It is much safer and the candles will last forever while you still get the candlelit ambiance.
Here are some other tips that might jump start your inspiration: 
1. A stack of vintage books that are similar in color make a great non-floral centerpiece. You can make them as tall as you want and they're effortless to make.
2. Never underestimate the elegance and beauty of lamps. A lamp with a beautiful shade will keep your table visible and also make your centerpiece woes go away.
4. If you still want to have a floral centerpiece, but you don't want to use real flowers, then paper or silk flowers are your best options. You can make them yourself and arrange them any way you desire.
5. Make desserts and food be the center of your table's attention. If you're really great at baking feel free to tease your guests with the tasty treats that await them after dinner.