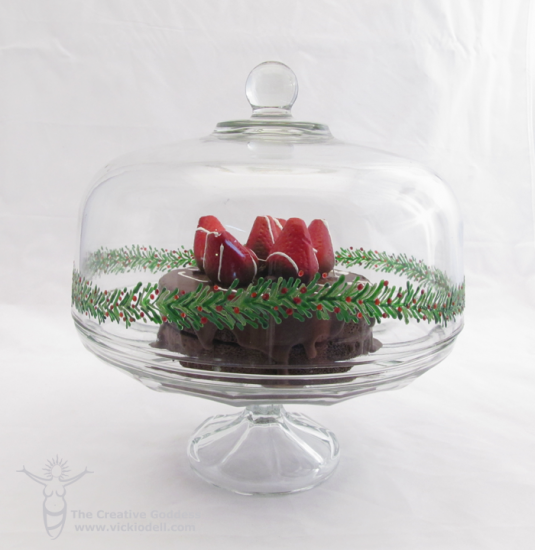 I've been wanting to try the glass paint from Martha Stewart Crafts for quite a while now. I keep seeing all sorts of lovely projects around the web and they always make me want to give it a try.
The problem is that I've never considered myself to be very good at painting. Generally, not being very good at something doesn't stop me. In fact, sometimes I do things BECAUSE I'm not very good at it. Just to remind myself that I can do things because they are enjoyable.
But then, there is always that bit of hesitation so I put it off. Then I got lucky and received a package full of Martha Stewart Craft supplies for this sponsored post. While I was super excited to get started I still kept thinking that I wasn't a "Painter" so had a hard time deciding on a project to make.
This is a sponsored post on behalf of Blueprint Social, Plaid and Martha Stewart Crafts.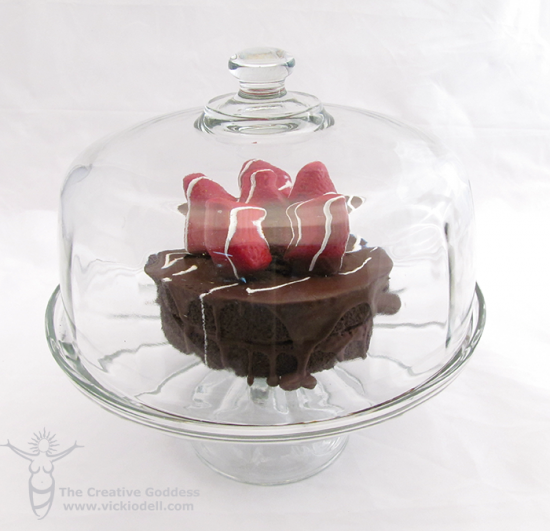 As I was walking through the kitchen one morning I spied my cake stand and it got me to thinking that I might like to do something on it for the upcoming holidays.
But then I wondered what I would put cakes on the rest of the year.
Later that week I went into the thrift store and lo-and-behold there was a cake stand cover missing the stand. I figured I could decorate one for the holidays and then store it for the rest of the year and still have my undecorated one to use. BINGO!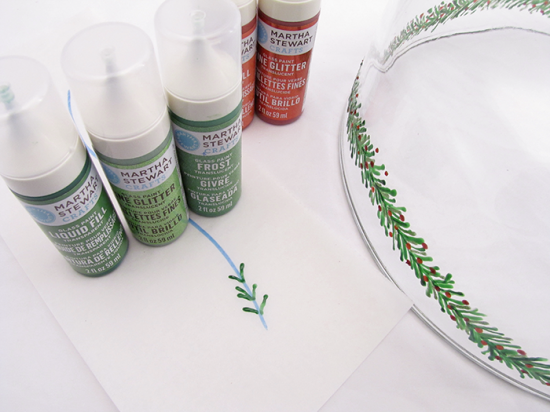 Now what to paint on it. Hmmm. I decided that while I might not be a Picasso I can draw lines. So I drew a line on a piece of a piece of deli wrap and started practicing.
Oh yeah. I can do THAT.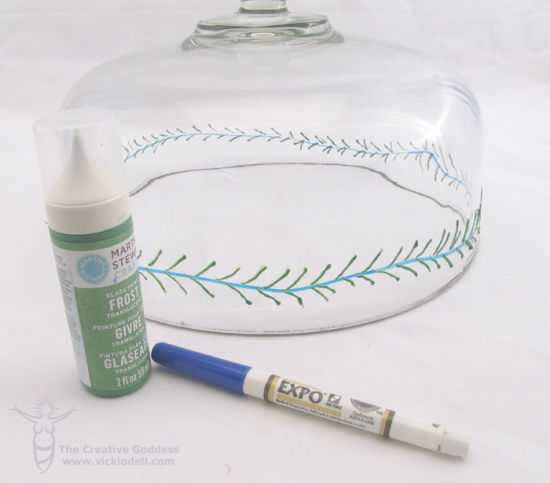 Then I drew a line on the inside of the cake plate cover with a dry erase marker, just to give my eye something to follow,  and started painting lines.  I was a little worried at first thinking that I might not be up to the challenge because, as you can see here, things are looking a little kindergarten. But I stuck it out and kept going.
I used these Martha Stewart Crafts glass paints:
Frost – Scottish Highlands
Liquid Fill – Sweetgrass
Fine Glitter – Peridot
Liquid Fill – Thai Hibiscus
Fine Glitter – Garnet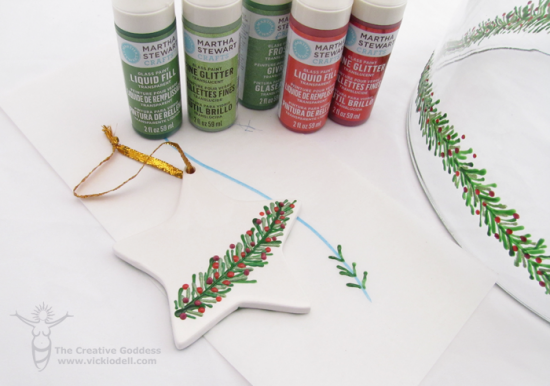 I ended up being really pleased with the results. I like that the different types of paint and the different colors go well together and give my garland lots of dimension. I love the little bit of sparkle in the fine glitter paints and how it makes my garland look all dressed up for a party.
One of the things I did was to put the cake cover in the center of a lazy susan. That gave me something to steady my hand on so I could go round and round the cover adding lines and berries. I just kept adding and adding until it was as full as I wanted.
I have to say that I LOVE this paint. It holds it's shape and doesn't bleed out. I was able to add lines on top of lines even when the first lines weren't dry.
If you look at the ornament in the above photo ALL of the paint on it is wet.  This is really great when you want to mass produce things like ornaments or gifts.
I enjoyed creating with the Martha Stewart glass paints and I'm happy I put my worries about not being a painter aside and just had fun with the project. In the end, I made a project that I really like! Who knew?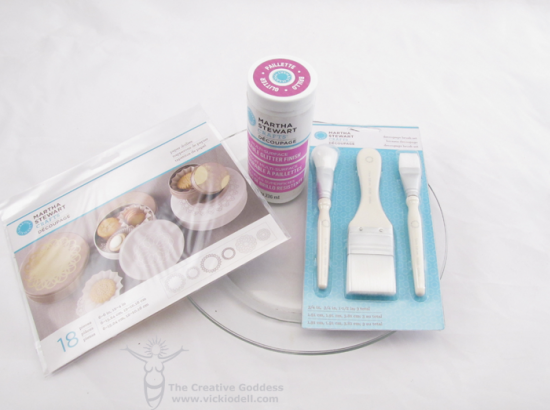 After my success with the cake stand I wondered what I could make next from the box of supplies I received. I got to thinking about all of the goodies we have here around the holidays and how I'm always sending food home with family and friends. And then I thought how nice it would be to send food home on plates they could keep and use rather than paper or plastic.
For my gift plate I used:
Clear glass plate
 Durable Glitter Finish Martha Stewart Crafts Decoupage
Martha Stewart Crafts Decoupage brushes
Martha Stewart Crafts Decoupage Paper Doilies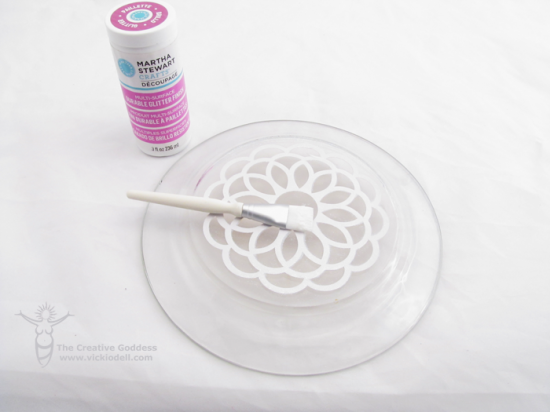 To create the plate wash the back side of the plate with rubbing alcohol and then apply the decoupage medium to the plate. While the decoupage medium is still wet apply the paper doily and burnish with your finger to make sure all areas of the doily adhere to the plate. Let dry 1-2 hours and then follow up with 2-3 more coats of decoupage medium.
Believe it or not, after 28 days the decoupage medium is top rack dishwasher safe!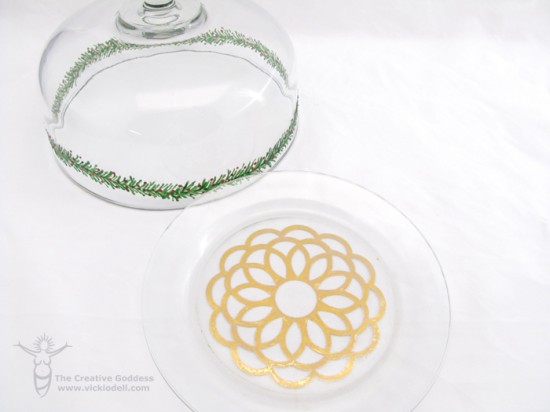 That makes this little take away plate something that your family and friends can use year after year. A perfect way to share cookies with neighbors or provide to a cookie exchange group this holiday season.
I'm also thinking that little snippets of the kids artwork on a plate for the grandparents or aunts and uncles would make a great gift too.
Is there a project you've hesitated to try because you fear you might not be good at it?
For more Martha Stewart Crafts and Holiday Crafting inspiration be sure to visit Plaid's Facebook Page, Martha Stewart Crafts Pinterest Board or sign up for their Newsletter. Please also visit the other great blogger projects by clicking on the images below.
This is a sponsored post on behalf of The Blueprint Social and Martha Stewart Crafts all opinions are honest and my own.