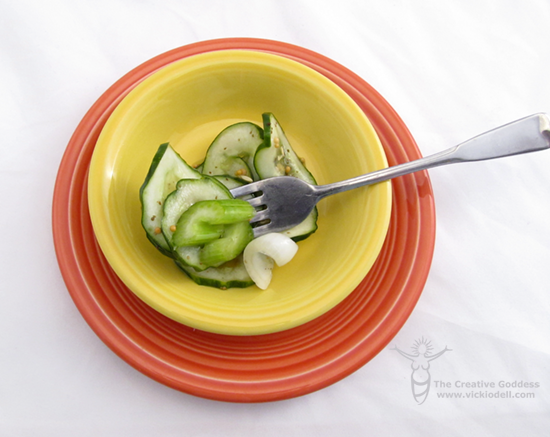 I am sure you are quite blissfully unaware of the search that has been going on behind the scenes at Creative Goddess HQ the past couple of summers. That is, the search for the perfect refrigerator pickles recipe.
I tried a couple of recipes last year that were, let's say, disappointing.
One turned my carefully sliced cucumbers into some kind of strange green, bitter tasting nastiness.
The other used honey instead of sugar. While it didn't taste terrible it wasn't all that good either.
I am happy to say that this years' first try was a MAJOR success. The Refrigerator Pickles Recipe that I found on the Martha Stewart (Duh! Why didn't I START there in the first place?) website is the best one I've ever tried.
It has the perfect ratio of sweet to sour and the pickles, onions and celery stay crunchy and delicious. All of the vegetables stay a beautiful bright green too making the pickles look as great as they taste.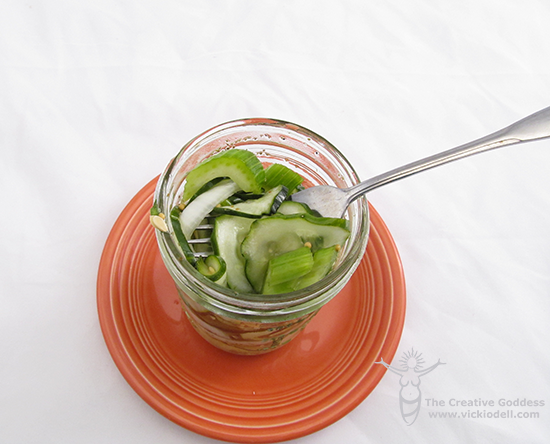 Are you looking for one more reason to try making some of these refrigerator pickles yourself? How about this – they are SUPER easy to make. Yeah, you weren't expecting THAT from Martha, now were you.
Seriously, I used a mandolin to slice all of the vegetables and the rest is super easy to put together. You won't even have to turn on the stove!
No, I'm not getting paid by anyone to write this post. I'm just a seriously deranged chick looking for a good pickle.
Wait. That didn't come out quite right.