I picked this plant stand up at the very first yard sale I stopped at on the 127 Yard Sale route last Saturday. Its was rusty and grimy but I loved the lines of it. I loved that the little bands around the legs made it look a little like bamboo and I liked that the tiers or shelves were made of glass.
So for $5 I brought it home.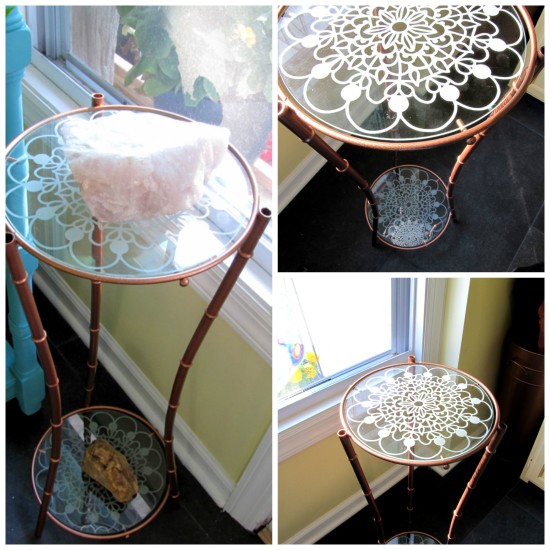 And I turned it into this!
Here is how I did it.

Supplies:
Krylon SuperMaxx in Copper Hammered
Krylon Frosted Glass Finish
Vinyl and Silhouette Cameo
Sanding Sponge
Soft cloth
Glass Cleaner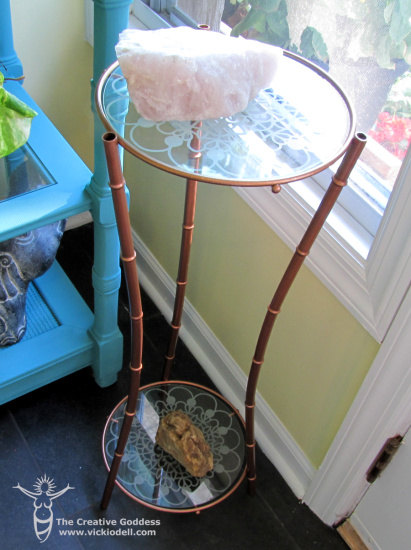 The How-To:
Remove the glass shelves and set in a safe place.
Sand the frame and remove all loose soil and rust.
Wipe down with a damp, soft cloth. Let dry.
Spray the frame with a light coat of Krylon SuperMaxx in Copper Hammered. Let dry.
Add additional coats as needed allowing a few minutes of dry time between each coat.
Clean the glass shelves with glass cleaner.
Choose artwork for the vinyl stencil and cut out two of them using the Silhouette Cameo.
Weed out the positive areas and apply to glass shelves.
Spray a light coat of Krylon Frosted Glass Finish on each shelf.
Add additional coats as needed allowing a few minutes of dry time between each coat.
Carefully remove vinyl after the final coat of Frosted Glass Finish is dry.
Replace glass shelves to dry frame.
Now I realize this is a plant stand but I decided to use it to display a large chunk of *rose quartz and a chunk of *petrified wood.
Because who would use a thing in the way it was meant to be used? Not anyone around here!
* Rose Quartz is a stone of the heart, a crystal of unconditional love. It carries the soft feminine energy of compassion and peace, tenderness and healing, nourishment and comfort. It speaks directly to the Heart Chakra, dissolving emotional wounds, fears and resentments, and circulates a Divine loving energy allowing one the capacity to truly give and receive love from others.
*Petrified wood is good for grounding and stabilizing one's emotions. It is particularly useful in calming survival-based fears. It helps one be practical. It is a stone of business success. Petrified wood is a good stone for general protection.
Don't forget about the Pinterest Yard Sale!!
The crew at Krylon picked up 127 objects along the route and gave them a face lift.
They are offering them at the Pinterest Yard Sale and all proceeds go to Charity Wings.