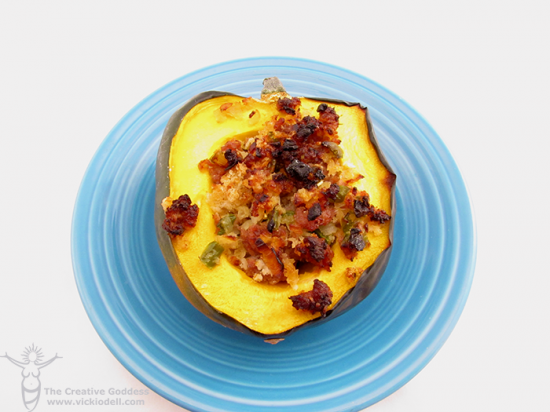 It's getting cooler out and that means I'm happy to turn on the oven again. YAY!
This is one of our favorite weeknight meals . I like that I can change up some of the items in the stuffing based on what I have in the pantry or what I'm in the mood to use. Versatile, healthy and easy to make. Can't beat it!
Stuffed Acorn Squash
1/2 acorn squash per person – wash, cut in half and remove seeds
Extra Virgin Olive Oil
Sweet Italian Sausage – I use Sweet Italian Turkey Sausage
Onion
Celery
Bell Pepper
A few Panko Bread Crumbs – optional
Grated Parmesan Cheese
Salt and Pepper
Bake the acorn squash in a dish with the cut side down and about 1/2 an inch of water on 350° for about 30 minutes.
Meanwhile, sauté the vegetables and Italian sausage until the sausage is cooked through.  Feel free to change up the vegetables as desired.
Toss in a few bread crumbs to help hold everything together along with the Parmesan cheese, salt and pepper.
Remove the acorn squash from the oven and turn over with tongs. Fill the cavity with the sausage mixture and return to the oven until the acorn squash is tender when pierced with a fork.
Remove from the oven and let cool for about 5 minutes before serving.