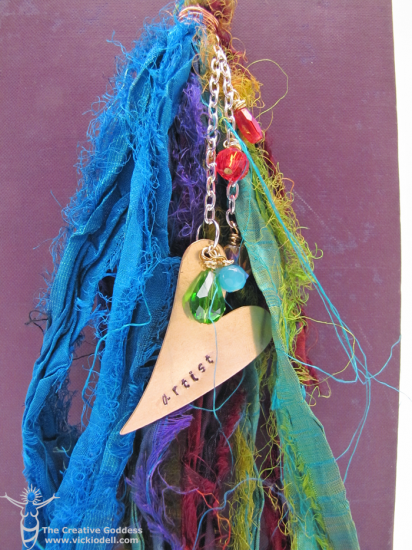 I should probably never clean my studio.
Not that it doesn't need it nearly every single day but I it seems that I start to clean things up and then get distracted by something I find and before I know it I'm creating in stead of cleaning.
Take this Gypsy Tassel. I started cleaning and then ended up making a few of these.
Here is how you can make one too.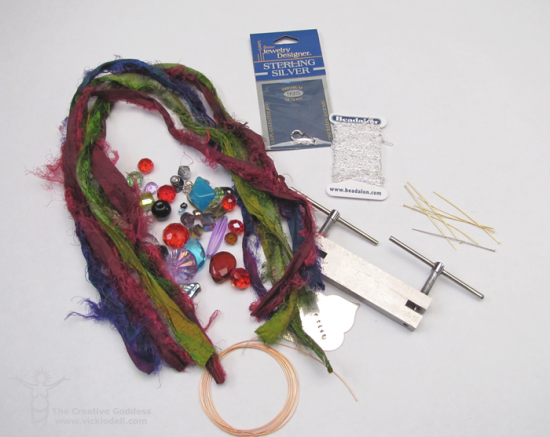 Supplies:
Impress Art Metal Stamps
hole punch for jewelry making
shaped metal blank
wire
head pins
chain
large lobster clasp
5-7 lengths of 18 inch long fibers – silk, yarn, ribbon, fabric etc
small gauge wire – approximately 12 inches
7mm jump ring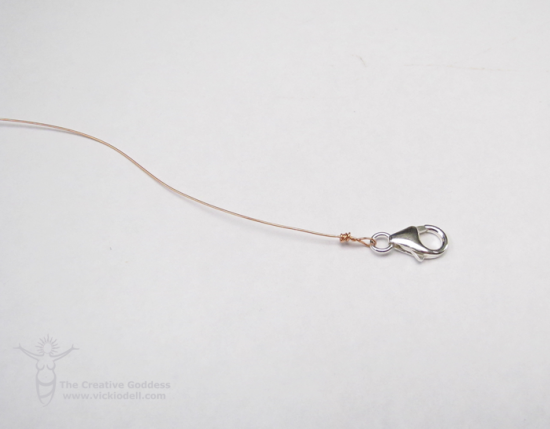 Begin by passing one end of the wire through the loop in the lobster clasp leaving a tail of about 1 inch.
Wrap the 1 inch tail around the longer length of wire to form a wire wrapped loop.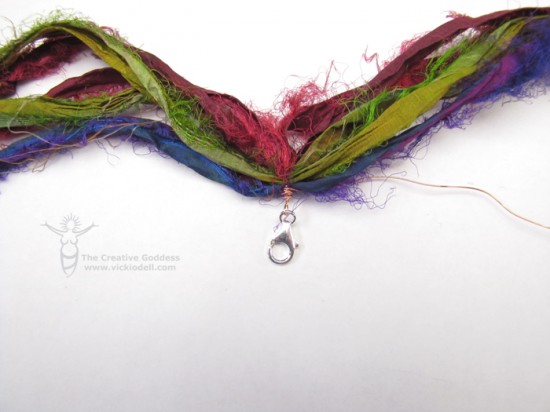 Find the center of the fibers by loosely folding in half.
Pass the wire under the fold and back up to the top next to the wire wrapped loop to secure all of the fibers.
Wrap the wire around the first wire wrapped loop a few times to secure.
Bring the wire back down to the inside of the fold.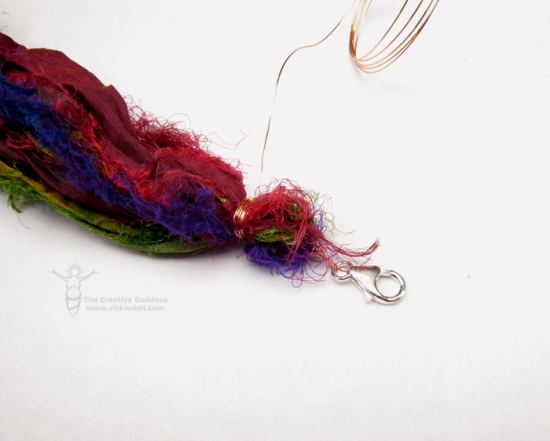 Gather all of the fibers together and wrap the wire around them as shown to form the top of the tassel.
Leave a 2-4 inch tail.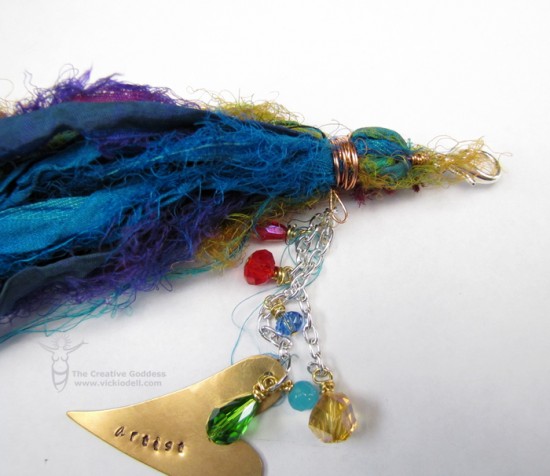 Create a loop with the wire as shown and find the center of the chain and pass the wire through one of the links.
Finish off  the tassel by wrapping the wire around the top a couple of more times and then tucking the ends into the wire. Be sure to fold it down in a way that it won't catch on anything.
Using headpins attach the crystals to the chain with wire wrapped loops.
Punch a hole in the stamped metal blank and attach it to the bottom of the chain with a 7mm jump ring.
One of the best parts of this project is that you can mix and match metal finishes and have a great look. It's a fun way to use up fibers and jewelry findings left over from other projects.
Use the lobster clasp to attach the tassel to a clutch, a chain for a necklace, or any other place you want a pop of color.
Pretty easy and a great way to use up the flotsam and jetsam laying around on your jewelry table.
Do you get distracted when you try to clean up too?