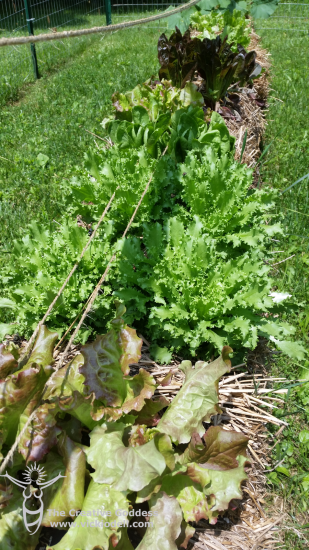 I'm pretty sure this is the best type of gardening I've ever come across. Seriously.  There is no way that I could have a garden this size this year without having a straw bale garden.
It's been perfect for me this summer. Well, the days one could consider summer-like. In May we had snow and a couple of hard frosts so I waited a while to plant – usually I plant Mother's Day weekend.
But with the higher temperatures of the "soil" in the straw bales (it's not really soil but straw that is breaking down) everything is coming along rather quickly even though I got a late start.
I put these plants in the straw bales the weekend of May 23 as tiny little seedlings from my local garden center.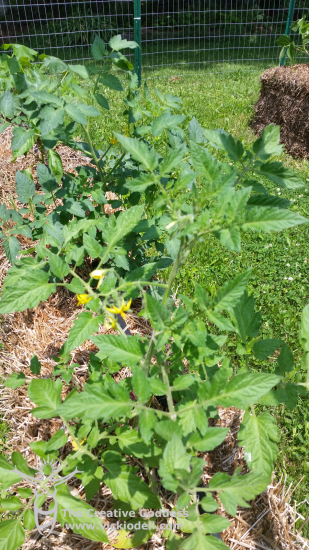 In this short amount of time I have blooms on my tomatoes and they have grown at least a foot in height. I am already able to harvest greens for salads. Yay!
We've had TONS of rain. Even though I set up the drip irrigation system on a timer I've hardly had to use it so far.
The nice thing about the straw bale garden is that the excess water runs off. My plants never sit in a puddle.
Do you see that teeny tiny little tomato beginning to grow?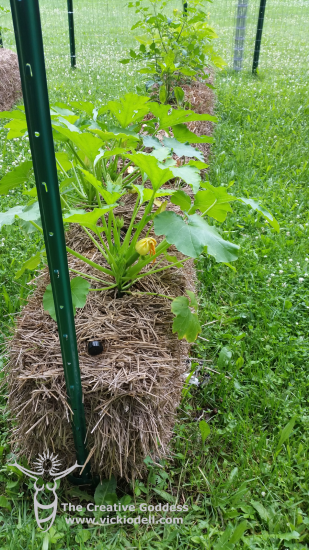 Today I noticed my first squash blossom.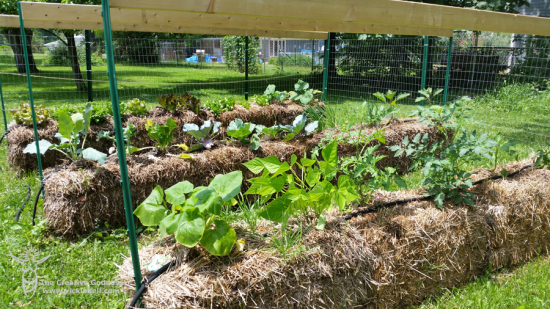 I feel really bad for my neighbor. He planted in the ground and didn't get everything in until last week because of the crazy weather we've been having. Of course, he plants a lot more than I do.
I just love walking out and looking at all of my plants. The fencing and the wood across the tops of the rows have kept the deer out which is a major accomplishment around here.
This is a perfect gardening set up for people with health issues like I have this year or for older folks. Even when I'm back to being strong as an ox next spring I'm going to do a straw bale garden again. So far it's fool proof!
Do you garden? What did you plant this year?