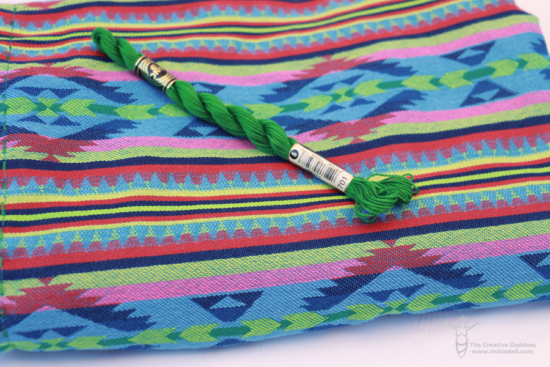 I was in Jo-Ann Fabric and Crafts several weeks ago when I spied this fabric. Now, I was shopping for another project but you know how it goes. You are walking along looking for something pink and all of a sudden this fabulous, brightly printed fabric jumps out at you and you know you'll have to take some of it home for a project "down the road".
It didn't take me long at all to realize that it would make a great table topper for my enclosed front porch so I had it cut to a square and I picked up some green embroidery floss to accent it with.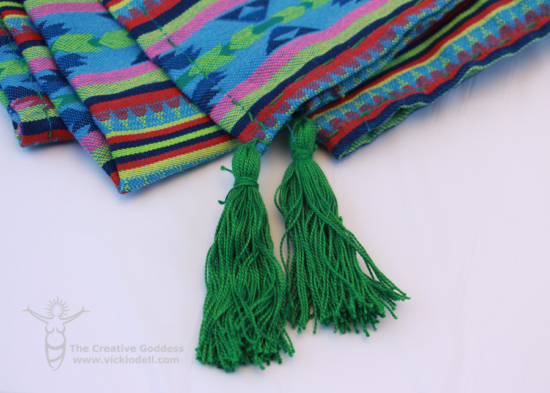 To create this table topper is super easy.
First, I washed and ironed the fabric.
Then I hemmed all of the edges with my sewing machine and added two rows of decorative stitching around perimeter. Nothing fancy. Just long and short straight stitches. I was thinking of Kantha quilts when I did this.
I made 4 tassels and attached them to each corner. And that's all there is too it.
You can put it in the center of a rectangle table off center, on a round table with the corners draping over the edge or just about anywhere. You know how I am, I move it around and layer it with another brightly colored solid.
One tip I would give you is to hand wash it due to the tassels but if you attach them with a tiny safety pin you could remove them and machine wash it on gentle.
I'm kind of amazed at how simple this little project is and I'm thinking I can make several for different seasons and different tables. What a great way to use up my bulging fabric stash!