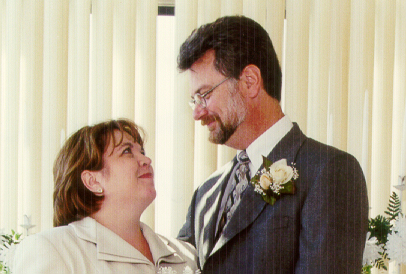 This time of year can be so hard. Loss of loved ones, sickness and family drama can make you feel like your world has fallen apart and you'll never be the same again. I thought this would be a good time to share the beginning of my breast cancer story. Because it was at EXACTLY this time of year last year (2014) when my world fell apart and I was doing my best to hold myself together. This is actually part of a sermon I was working on for the UU church in Akron when my world fell apart AGAIN. But I'll tell you about that later.
Here is my story:
When Warren and I got married back in July of 2000 we were instantly a family with four kids. Our only vacation alone together was the long weekend we escaped to Niagara Falls to get married. That is until last summer. With 3 children out of the house and one working out of state for the summer we decided that we would finally have a vacation together.
The plan was that Warren was to go to Providence Rhode Island to attend and work at the General Assembly for the UU church and I would go along. He worked at the convention center as planned and I either went to some of the sessions, explored bead shops in the area, or worked on my own business out of our hotel room.
When we weren't doing those things we explored together, saw some fantastic sights and ate some of the best food we'd ever had. It was a working vacation but it was really great. We had a wonderful time, celebrated our 14th anniversary, and relaxed more than we had in a long time.
On one of our final evenings I was in the bathroom when I got a funny feeling. My intuition, guides, or spirit said that there was something I needed to attend to. I listened further and got the impression that it was my left breast and that I needed to "touch here". The feeling was very specific, I knew EXACTLY where I was to touch, but I brushed it off.
I crawled in bed and the feeling came again. VERY strongly. Touch here. And so I did. In my left breast I found a lump the size of a largish pea.
This was on June 27th. I had just had a mammogram on June 5th. Just 22 days before. And the results were good. "All clear".
I didn't panic or overly fret. I figured it could be any number of things but it wasn't cancer. No one in my family had ever had breast cancer so I was good.
The next couple of weeks were filled with uncertainty. No one was quite sure what it was. A cyst? Nope. A needle biopsy came back negative for cancer but with abnormal cells. So I had it removed – just so I didn't have to worry about it. Just a tiny dent in my skin because it was close to the surface. Easy surgery and back on my feet within a few days. No big deal.
I got a call about a week after my lumpectomy from the surgeon. He said, "I'm really sorry but it is cancer."  My reply?
"Well, that's disappointing."
The next couple of months were a roller coaster. Did I want a mastectomy? Reconstruction? The breast reduction I'd always fantasized and half joked about? Would there be chemo? Radiation? More surgery?
Most of it was up to me but I had no idea what I was doing. I had no way of knowing what the outcomes of any of those decisions would be and because every woman is different and every cancer is different no one in the medical community could tell me with any certainty either.
I had surgery again along with the removal of several lymph nodes. This surgery took more out of me and I had a rough few weeks. Then Warren had surgery (because he had been diagnosed with prostate cancer just a little over a month before I found the lump) and I got an infection. I was sick, hurting and caring for him. It was rough.
That is where our community came in. Church, family, and friends. They helped make it better with meals and cards. With the meals and leftovers I didn't cook for a solid two weeks and was able to get both of us back on our feet. We both got many get well cards and I taped them to the front of the fridge where we could see them multiple times a day. I let myself feel the love in those cards and it gave me strength.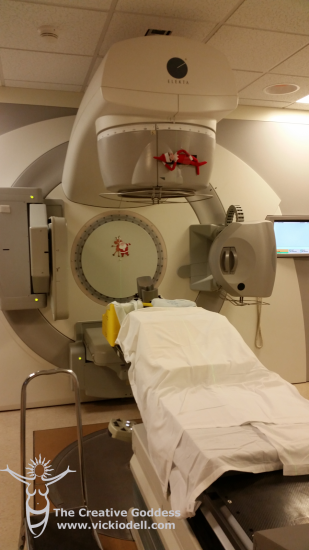 Next up was radiation. I dodged a big old bullet when I didn't need chemo but radiation was it's own special kind of hell. Burned skin that peeled off in sheets when I put cream on, open wounds, cracking skin, lots of pain. I was miserable.
Really, really miserable.
But I tried my best to not make everyone else around me miserable. So I let my bawdy, rowdy sense of humor carry me through.
One of the things that bothered me early on was constantly getting undressed for strangers. Hey, Mormon girls are taught to be modest and I had been a Mormon girl for a long time (I left the church in 1998). So it was hard for me.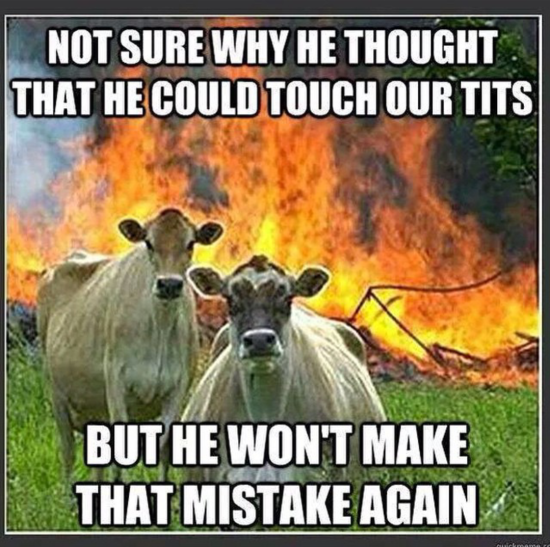 I posted this on my facebook wall.
I also started saying that I wanted Mardi Gras beads if I was going to have to keep showing my boobs.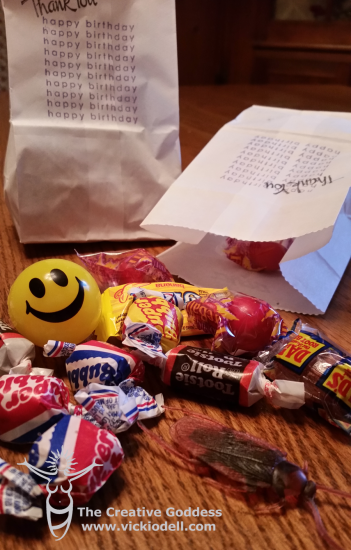 I was in treatment during my birthday (12/17) and gave away little bags of "penny" candy with a super ball and a plastic cockroach. For days the techs left plastic cockroaches around to scare one another and even their families. I played tricks on some of my medical team and made them laugh. They happily returned the favor. It helped them and me both I think.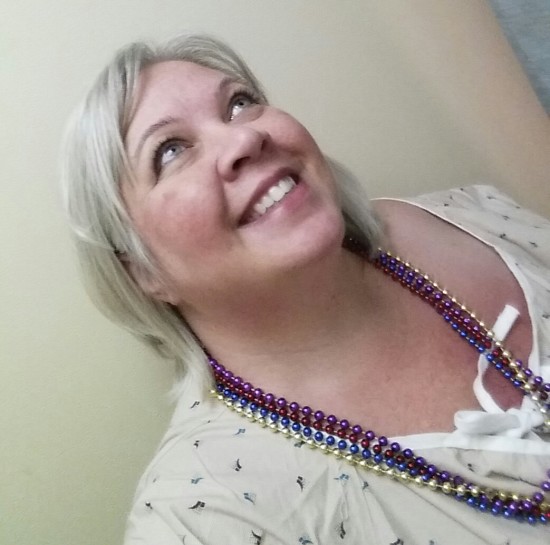 And I got beads!
Thanks to Stewart's Caring Place I discovered Reiki and it was during one of my treatments there that my guides, intuition or spirit spoke to me again.
As the Reiki master was doing what she does I started to drift off. I'm not sure if I actually fell asleep but here is what happened.
I walked into a little underground grotto. It was dark and there was a fire in the middle. I walked closer to the fire and I saw a woman. I was given to understand that this woman was my mother. Not my earthly mother but my spiritual mother. THE Goddess.
She took me in her arms, held me close and rocked me. I could hear her heart beating and feel the warmth of her. She stroked my hair and told me that she loved me that she was sorry that I had to go through such a hard time but I was going to be OK. I fell asleep in her arms.
When I awoke she wasn't there and I started to cry. (I started to cry in real life too.)
Out of the shadows came many other women that I hadn't noticed before. All different shapes and sizes. All dressed differently. They surrounded me, hugged me and comforted me. They all told me that they loved me and that I was going to be OK.
I woke up and knew two things. I was loved beyond measure and that I was going to be OK.
I can't begin to tell you how much strength and peace I felt after that one experience. It carried me the rest of the way through treatment and even to this day I feel so strongly that other women are my sisters and that we are here to love and support one another. I feel such a close connection to all that is divine and feminine.
And then.
A month after I finished my final radiation treatment on 12/19/2014 my mother was diagnosed with Acute Myeloid Leukemia. While my mother and I aren't close it was hard to watch her fight for her life – especially after what I had just been through . I remember thinking "How can this happen? How can I survive this? THIS might be the thing that breaks me forever."
Throw in a totally dysfunctional family dynamic and the situation was nearly unbearable. I was weak, tired, still hurting, still processing what I'd been through and then totally worried about my mother. It was all-consuming and totally overwhelming. The day I was supposed to deliver the portion of this post as a sermon I was in West Virginia. My mother had coded and was on a ventilator and I was almost certain I was going to lose her.
So what do I want to share with you? What would I like you to understand from what I've written here today?
It's just this.
You will do it. You have done it. You can do it. 
Close your eyes and think back to the times your world has fallen apart. You've been there. More than once, likely.
You got through it.
Your world will fall apart again in the future. It's the price we pay for being here. Lots of happiness and joy and also times of utter destruction.
You will get through it.
Gather your people for support.
Church, friends, family and professionals. Get your wagons in a circle and prepare to do what needs doing.
Find ways to cope. Humor, art, writing, cooking, exercise – whatever works for you and helps you deal with the hard things in life.
Listen. Listen to your heart, your spirit, the universe. Listen for guidance, comfort, gratitude and peace.
Most importantly, take care of you. Do small, nice things for yourself. Treat yourself extra special. Take time to do the things that give you strength.
I love each and every one of you and I know that when your world falls apart you will be able to get through it. It won't be easy, it won't be fun, and it probably won't happen over night but you can do it. I believe in you.
May this holiday season find you wrapped in self-love, kindness and generosity and may the season be gentle if you are struggling.
Bright Blessings,
Vicki