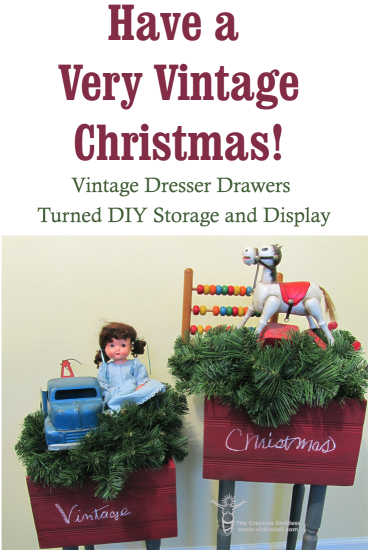 I have a major battle going on in my life right now. Well, ok, in my home decor life. Don't panic. You see, I LOVE vintage with all of my heart but I've also got a big love for all things global/boho/gypsy. That's why when we were cleaning out the attic this spring and someone wanted to toss a pair of vintage dresser drawers I balked. They were too cool to toss! I caught some flak but now that I've made this Vintage Dresser Drawers Turned DIY Storage and Display project I'm gonna be able to hold my head high and say, "nah, nah".
Because I'm mature like that.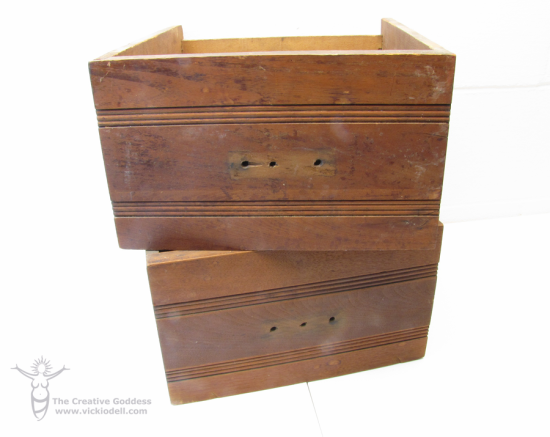 See what I mean? There aren't even any nails in these. Just a cool rounded join. But I will admit, they are pretty beat up and rough looking. But still too cool to toss.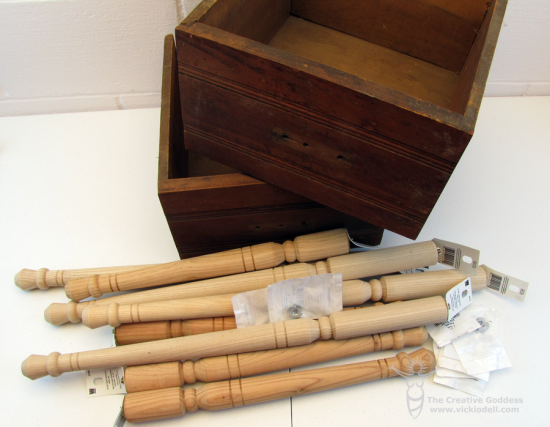 I had the image of them sitting around in the back of my head waiting for a project to present its self and one day last week I was strolling around Lowe's (like ya do) and I saw these legs.
And just like that time I smacked my forehead on the attic rafters – a grand idea HIT me.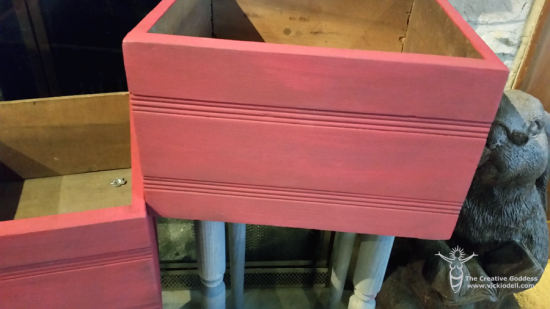 I was really excited to be able to use some great products I had received from Plaid Online for this project. I don't know if you've tried their chalk ultra matte finish paints yet but they are pretty divine.
Look, we are both busy folks and no one wants to spend hours sanding legs and drawers if we don't have to. And with this chalky finish paint – we don't have to! Just open the jar and spread it on. Easy peasy. Honestly, I filled the holes (why are there THREE holes in the fronts?) with wood putty, sanded it down and put the paint on. I didn't even clean the drawers!
First I painted the drawers turquoise because I had some left over from the Breakfast Bar (which reminds me that I STILL need to paint the kitchen) but when I painted the legs Hawaiian Sand it didn't look right to me. So I grabbed some red and went over it in kind of a light way. The turquoise doesn't really show through but it dulls down the red and I like that look with the grey legs.  Very vintage.
Once all of that was dry I added a coat of Mod Podge Clear Chalkboard finish so I could label the drawers.
Finally, I drilled holes in the bottom corners of the drawers and attached the legs with T Nuts. Done and Done!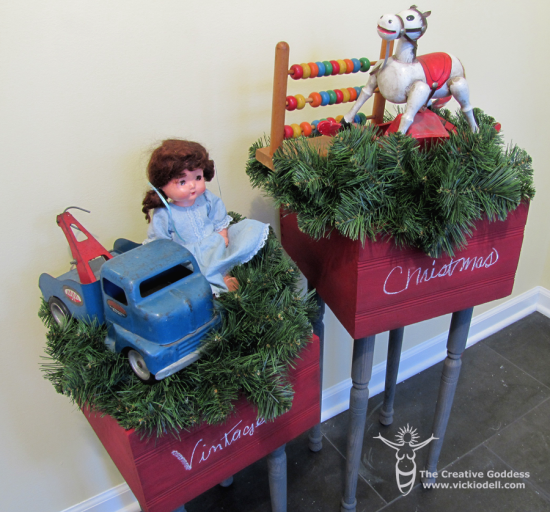 To create this vintage vignette I put boxes in the drawers and then used two pine swags to cover the boxes. Finally, I simply added some vintage toys and wrote "Vintage Christmas" on the fronts.
I'm kind of crazy about this project. The vintage drawers can be used as plant stands, or I could put a tray on the top and turn them into small side tables with storage. And the best part is that if I want to change the color I can without sanding and scraping. I just put a new color on top of the old one. Boom!
Supplies:
To find out  more about the products mentioned here visit Plaid:
Pinterest:https://www.pinterest.com/plaidcrafts/
Facebook: https://www.facebook.com/InspiredByPlaid
Instagram: http://instagram.com/plaidcrafts/
Plaid Website: https://www.plaidonline.com/default.aspx