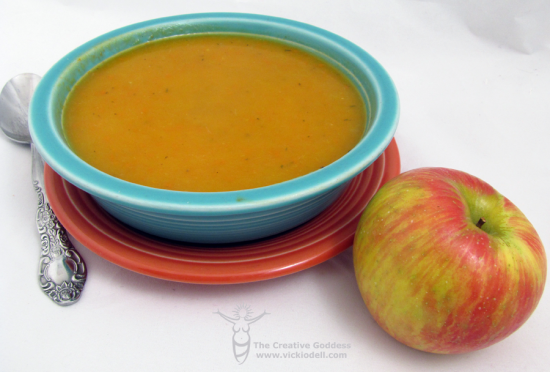 Winter squashes, like butternut are great foods to grow or keep on hand. They are easy to care for and last weeks or even months after harvesting. In fact, butternut squash tends to get sweeter the longer it's stored.
Butternut squash can be roasted, toasted, puréed for soups, or mashed and used in casseroles, breads, and muffins. It's also high in fiber and lots of vitamins.
This soup is great fresh off the stove or reheated for lunches and the best part is that it is very low in fat for those of you trying to stick to your New Years Resolutions.
Butternut Squash Soup
2 Tablespoons Extra Virgin Olive Oil
1 carrot – diced
1 stalk celery – diced
1 onion – diced
4 cups cubed butternut squash
1/2 – 1 teaspoon thyme
4 cups chicken broth
sea salt
ground black pepper
NOTE: For a sweeter soup use sweet onions. For a more savory soup use stronger onions and add a clove or two of garlic. 
Heat oil in a stock pot. Ad carrot, celery and onion and cook until the vegetables have begun to soften – about 3-4 minutes.
Stir in butternut squash, thyme, chicken broth, salt and pepper. Bring to a boil, reduce heat and let simmer until squash is tender – about 30  minutes.
Use an immersion blender to puree vegetables.
Be sure to check out my Sweet Potato and Butternut Squash Soup Recipe