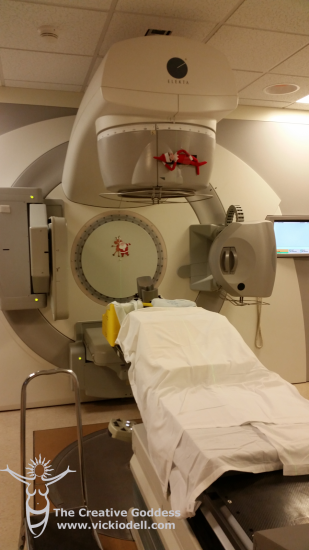 I'm finally through radiation treatment, my skin is healed and I'm beginning to get my energy back a little at a time. I had a check-up with my oncologist last Friday that didn't go like I thought it would.  In my head I thought I had the next steps figured out and I thought I knew what would come next. I should know by now that I know nothing.
You see, I had it in my mind that after all of that grief I went through with two surgeries, infection and 6.5 weeks of radiation treatments that there would be some kind of test performed that would deem me "CANCER FREE".
You know, a ribbon to break at the end of the finish line. A diploma. A certificate. A big Hooray!
Guess what? There isn't.
My Dr said she would do a blood test but that it's not a 100% guarantee. She said if I really wanted that she could do a scan but that any teeny tiny little dot they found would have to be BIOPSIED. More surgery. She said that a needle biopsy wouldn't work because the dot would be small (and if you remember the needle biopsy performed on Stanley came back negative for cancer. WRONG!).
She did say she would do the scan if I really wanted it but she felt that in the end it might just cause more anxiety, worry, concern.
No finish line. No announcement. No decree.
To say I was disappointed is an understatement.
I got nothing besides a little blood draw. Anti-climactic to say the least.
I have learned over the past several months that when things don't go according to plan that I need to sit with it a while.
I need to feel the feels.
Sadness, anger, disappointment, and a touch of grief.
Somehow sitting with the disappointment, turning it over in my hand, and REALLY looking at it seems to help me process it faster.  Faster than denying it or trying to drown it in chocolate ice cream and with far fewer calories.
Anyway, I woke up yesterday feeling much better.
Here is my new take on this.
1) My left breast has been radiated to the moon and back. It is highly unlikely that I have cancer cells growing in there.
2) If the surgery and weeks of regular radiation didn't get rid of the cancer I also had 7 "boost" radiation treatments that focused on the tumor bed. Just to be sure. "Out, out, damn spot!"
3) I have started taking a medication (and will be taking it for the next 5 years) to decrease the chance of a re-occurrence by 50%. So even my right breast is 50% less likely to get breast cancer.
4) All in all I'm better off than the average woman. Frankenboob and all.
I've decided that I'm cancer free and I've asked my family to have a little dinner party with me.  I'll make my own damn finish line! Thank you very much. I'm going to take that disappointment, toss it aside and have me a dance party.
Cancer is a funny thing. It destroys you, tears you down, makes you weak so that you can build yourself back up again. So you can come back stronger than ever.
New and improved with slightly wacky looking packaging.
I will still have some disappointments in my journey but all-in-all I think that Stanley was just a bit of rotten luck.
And if I sit with my disappointments and let me teach me their lessons I'll be better off in the long run.
How did I find out I had breast cancer and what is this Stanley business?
Stanley is a Liar – Breast Cancer Diagnosis
[mc4wp_form]