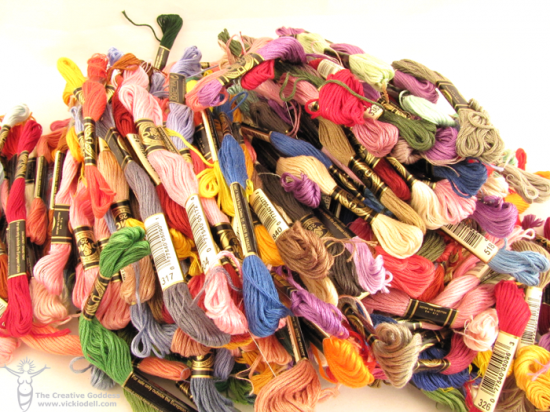 I was working on a project yesterday and dumped out a big bag of embroidery floss from my stash. Warren came into the room and just started chuckling.
You see, there is a story about that bag of floss.
Back when we first became a blended family, I think it was the first Christmas we were all together, I had asked for embroidery floss for Christmas. I'd been doing lots of embroidery and cross stitch and got tired of schlepping out to the store every time I needed a color that wasn't in my stash. Which was often.
So I made a list of all of the colors I had on hand and gave it to Warren and told him that I had those colors, please get me colors not on the list.
So he took Tyler shopping with him and they stopped in at Michael's to pick out some floss for my gift. And he picked A LOT of floss.
When he took it to the check out of course the cashier had to scan every single skein he bought. She couldn't just type in 90 and then scan one because it would wreck the store inventory.
He said they must have been there 10 minutes scanning floss.
Customers were grousing and getting antsy and he's a little sorry he got so many skeins. He apologied and eventually left the store with my Christmas gift.
I'm sure you've guessed by now that when I opened my gift on Christmas morning, with the list included with little check marks next to each color, that he'd purchased one of every color that I ALREADY HAD!
And I'm still trying to use it up 15 years later.
You'll see some of it in a project this week.
Other places you could have found me on the internet this week. You know, if you were looking.
On the Creative Income blog:
Jewelry Making on About.com
Book Review: Inspired Remnants, Curious Dreams by Kerin Gale
Craft Test Dummies