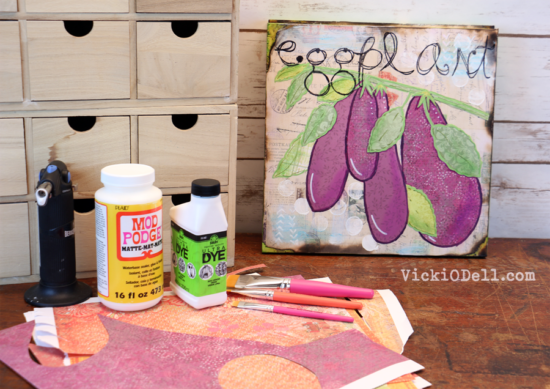 Garden Inspired Mixed Media Art – Eggplant
And now to end my trio of mixed media garden art I've created a fun and funky version of the eggplant. Last year my eggplants got eaten before they could bear fruit so I'm hoping that that this year turns out better.
Garden Inspired Mixed Media – Tomato
Garden Inspired Mixed Media – Pepper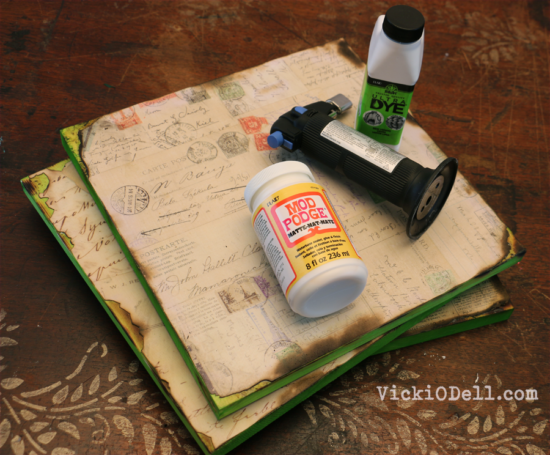 This is one of those projects where I had a basic idea of what I wanted to create but not an exact process. So, I started pulling supplies off of shelves and out of drawers and here is what I ended up using. This post contains some affiliate links for your convenience. If you purchase an item after clicking a link I may make a teeny tiny commission at no extra cost to you.  Click here to read my full disclosure policy.
Supplies:
Instructions:
Lightly sand the wood canvas and then brush Plaid Ultra Dye on. Let dry.
Coat the board with Mod Podge and smooth the base layer of paper over top. I use my fingers to smooth it down. Coat the paper with a coating of Mod  Podge and let dry.
CAREFULLY use the torch to scorch the board and burn the edges of the paper. Be sure to ventilate the area where you are working.
Set aside to cool and completely dry.
Pull out scrabook papers that have the colors of the vegetables that you want to create – in this case tomatoes and vines
Once the background is cool and completely dry use the stencil to paint a few areas with polka dots.
Add random designs such as lines and hashtags with the Pitt Artist Pen. Let dry.
Smudge a little blue Gelato onto a few areas and blend it in with your finger.
Cut out vines, leaves, stems and tomatoes from paper. I just eyeballed it and made it up as I went along.
Arrange the pieces the way you like and then adhere them with Mod Podge. After all of the pieces are in place seal with a coat of Mod Podge. Let dry.
Outline the vines, leaves and tomatoes with markers to add dimension and cover the raw edges of the paper.
Add highlights with the PITT Artist Pen.
Stamp the word "TOMATO" across the top with stamps and ink. TIP: You may want to go back over the inked work with a black Sharpie to fill in any areas where the ink might be lighter.
Add low lights with green and red Gelatos and smudge the color with your finger.
Garden Inspired Mixed Media – Eggplant
I know it might look like a long process but it's really not. And I totally love the finished piece. So much so that I've already started on TWO MORE! The process of creating this was so much fun!
Also, I loved creating on top of the Mod Podge, it makes a surface that accepts colors but you can also easily blend or even wipe away areas making it fun to create mixed media art with.
Now I'm off to the studio to work on those other pieces. I'll share them when I have them done.