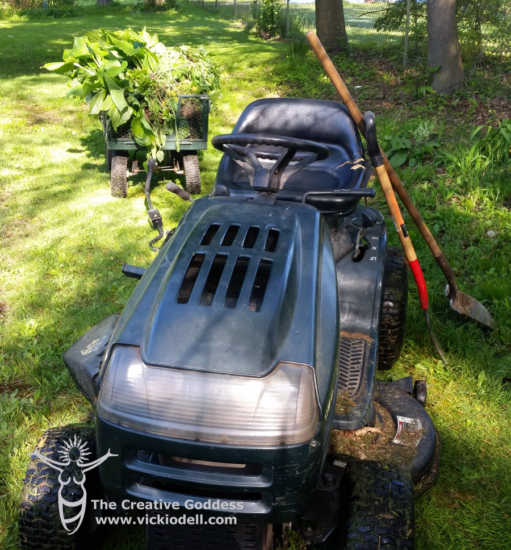 "The only constant in life is change." Yet, lately, I've been feeling kind of stuck. And then, something happened that I didn't like and I started the process of getting unstuck. Go figure!
If you have been reading here for a while you know that the changes in my life have been coming fast and furious but for the first part of this year I was still feeling kind of stuck. And then, I got an email. "We are writing today with the unfortunate news that we will be terminating your contract with About.  This decision was arrived at only after a great deal of thought and consideration about the future direction of About."
In a follow up email they said "Thank you for your years of hard work."
Ouch! All of that time and energy and work and I feel like it's being flushed down the toilet. I was disappointed, a tiny bit angry, and yet, a little relieved too. So I took to the outdoors.

My yard to be precise.
Getting unstuck is hard work. I've been working 5-10 hours a day on my one acre slice of heaven. New flower beds, extending the straw bale garden, trimming trees and shrubs, dividing plants, mowing and a whole lot more.
And I've come to the conclusion that I just want to be some kind of farmer girl who writes and makes things. Art, crafts, food, a safe and loving home.
I get lost out there in the heat and sweat. The dirt and green growing things heal my soul and make me ever so happy. And while I haven't had energy to do anything at all when I come in the house in the evening I feel myself getting stronger and know that won't last long.
I've applied for a part time teaching job with a local city that will pay my few bills and provide money for my plant habit if I get it – and I feel pretty good about getting it. Besides, it will get me out of the house. All of this writing has been turning me into a hermit!
Basically, a crummy but good thing happened and I was forced to really think about what I want to do next. I've written under deadline for over three years and it was time to move on. I was feeling stuck and now I'm getting unstuck. Having About terminate my contract and taking myself outside to work really hard helped me o see how to get myself unstuck.
Sometimes I guess you just have to work it out and sweat a lot in order to get unstuck.