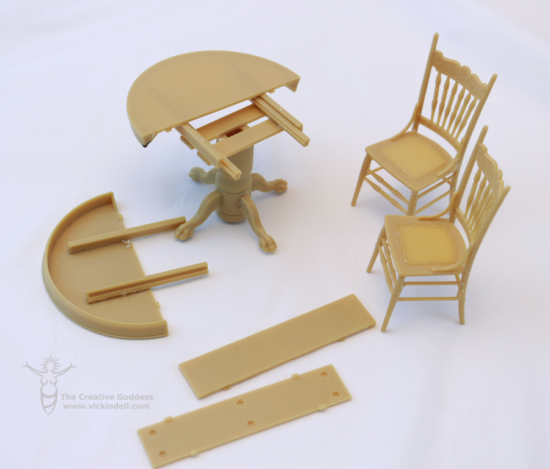 Let's play a game. See if you can figure out the real reason why I decided not to use the paint that came with the miniature dining set from miniatures.com.
The dog ate my paintbrush
It was a full moon.
I lost the package of stain/paint in my mess of a studio.
If you guessed number 3 you know me too well and should come over and help me clean. Haha!
Anyway, I couldn't find the little package of stain/paint anywhere. I'm afraid I threw it out with the packaging. OOPS!
So I did what any crafty chick would do. I stood in front of my craft supply shelves and stared at the supplies until I hit on one that would give me some bright color (so glad I didn't use that traditional stain!) and would adhere to plastic.
Ranger Alcohol Ink jumped out at me.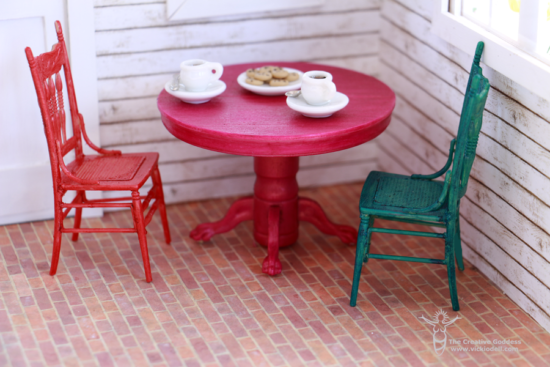 After all, this IS supposed to be an art studio and potting shed.
And I'm totally loving the bright colors!
I need to go back over the blue and even the color out a bit but otherwise I totally love the way my dining set turned out.
Here are a few tips from me to you for assembling miniature furniture.
Read the instructions at least twice.
Lay out all of the pieces to be sure you have them all before you start.
Dry-fit the pieces together as much as possible to be certain of how the piece goes together
Have a craft knife on hand to shave off any small plastic tabs.
Use glue sparingly. I have a couple of places where I got carried away with the glue and depending on what you use to color the furniture the glue may show.
Have a few cotton swabs on hand to wipe away excess glue before it dries.
Be sure to let the glue dry thoroughly before finishing.
Have items on hand like tiny clothes pins, painters tape or scotch tape to hold pieces while they dry.
DON'T use hot glue.
Test the glue you intend to use to make sure it won't discolor or even melt your furniture.
I'm almost finished with the Backyard Bungalow at this point. I just need to add more furniture and fun things. I'll have the finished project here for you to see on September 26th.