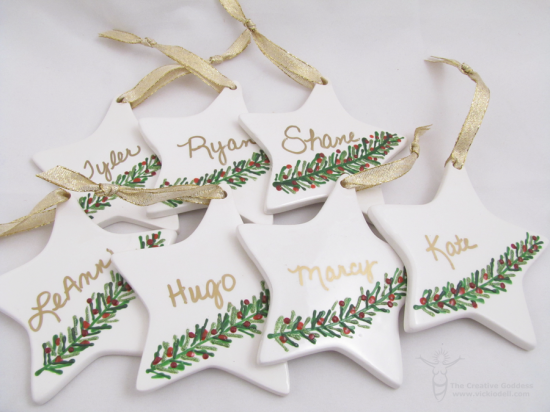 When the boys were little I made them a Christmas ornament every year. It was a fun little tradition (mostly for me since they were so young) . But sometime a few years after marriage number two and 4 kids running in circles around me I let the tradition slide.  I've decided to bring the tradition of handmade ornaments back this year with these personalized ornaments.
I gave these handmade ornaments out yesterday at the end of our Thanksgiving feast to help get everyone into the holiday spirit.
Here are the details:
The substrate is a plain porcelain ornamentI picked them up at my local craft store.
I painted the pine and berry branches just like I did in this post: Painted Pine Garland Holiday Cake Stand and let them dry a few days.
To personalize I used a gold metallic Sharpie marker.
I also initialed and dated the back of the ornament for posterity.
While I was a little self-conscious about my less than stellar hand writing (I'm not used to writing so big) I got to thinking that it would be cool for my kids to have a sample of my handwriting to look at long after I am gone. After that I was much less self-conscious and just decided that I was leaving them with a memento of me as I actually am – my craft legacy. It was a freeing moment to tell the truth.
And yes, I made ornaments for the SO's (significant others) too. Next year I think I will try to make ornaments for ALL of my guests!
When was the last time you made a handmade or personalized ornament for someone you love?