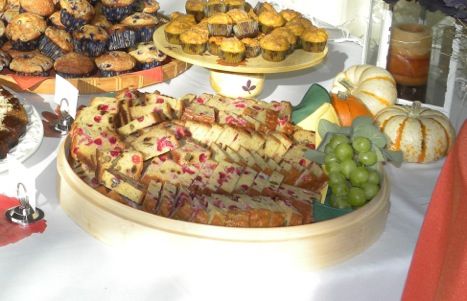 I'm super excited to share a guest post from a new blogging pal Deborah from Deborah Dishes. She was so kind to offer a guest post to help me out while I've been down and I'm happy to introduce you all to her. I hope you'll stop by her blog and say "hello" and give the recipes below a try.
A Recipe or Two from the Cranberry Queen
I love cranberries. And I'm lucky enough to live in the land of cranberry bogs, Massachusetts. One of the local bog owners invites us to pick from the bog after the harvest, as the harvesters never get every last berry. There is plenty of fruit around the edges for easy picking so we don't inflict any damage on the fragile plants or get too wet. And if we don't take them they ferment. We've seen any number of tipsy deer staggering around the bog drunk on fermented cranberries.
These berries are the size of large grapes, not the tiny fruit in the bags at the grocery store. So what do we do with these beauties? Cranberry Relish and Cranberry Bread.
411 Cranberry Relish
The 411 comes from the ratio of cranberries to sugar to liquid
4 C. cranberries, washed and picked over
1 C. sugar
1 C. orange juice concentrate
Grated rind from 1 orange
2 tsp. Coleman's Dry Mustard
2 T. Fruit Vinegar (apple cider or raspberry)
Place the cranberries, sugar, orange juice and orange rind in a heavy saucepan and bring to a boil. Reduce the heat to simmer and cook until cranberries pop and the mixture is syrupy, about 10 to 15 minutes. Remove from the heat.
Dissolve the mustard into the vinegar. Stir the mustard-vinegar mix into the cranberries. Let cool and chill for 24 hours. Pack into glass jars as gifts or serve with turkey, pork or chicken. Great on turkey sandwiches with tarragon mayonnaise and alfalfa sprouts.
Cranberry Orange Quick Bread
This bread is not only delicious for breakfast but goes well with a poultry dinner; I serve it at Thanksgiving. It freezes beautifully and if your mixer and oven are big enough it can be doubled. It makes a great hostess gift.
Makes 2 – 8" loaves
Preheat oven to 350 degrees
3 C. Flour
2 tsp. baking soda
2 tsp. baking powder
1 tsp. salt
4 T. butter
4 eggs
2 C. sugar
1 C. orange juice
2 C. cranberries
1 C. chopped walnuts
½ C. raisins
Butter and flour 2 – 8" bread pans
Sift and mix the flour, baking soda, baking powder and salt.
Beat together the butter and eggs, and then beat in the sugar. Add in the orange juice a little at a time alternating it with the flour mixture until both are fully incorporated. Fold in the cranberries, walnuts and raisins.
Transfer to the loaf pans. Bake for 1 ¼ hours at 350 degrees or until a toothpick inserted into the center comes out clean. Cool for 15 minutes before removing from pans. Cool completely on cooling racks. Best to wait several hours before cutting. Serve with butter or cream cheese.
www.deborahdishes.com