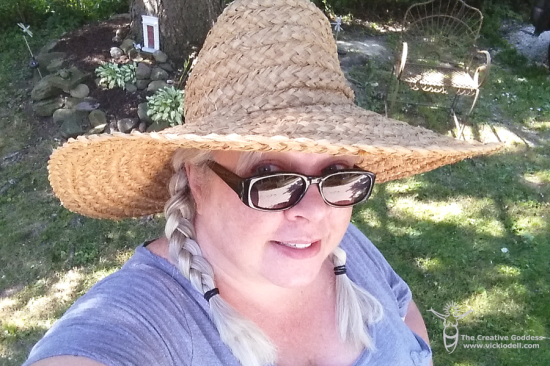 You may not know this about me but when I was younger I was a bit of a tom boy. I climbed trees, fished, loved being outside and was pretty active through my earlier years.
My sister and I had it all set up. I did the yard work and she did the indoor stuff.
Then sometime after puberty I got heavy. Then I had kids and got heavier. Then I had a complete hysterectomy and got even heavier still.
UNhealthy.
If you remember my one little word this year is HEALTHY. My goal was not to lose a bunch of weight (which is good because I've only lost 10 pounds) but to feel healthier. To feel better in my skin.
And I felt that this past weekend when I was out in the yard. I've been walking 2+ miles every weekday and doing yard work in the evenings or on weekends.
Walking, shoveling dirt, weeding, forking out mulch, chopping down saplings, digging up new beds,  and major reconstruction on the end of my driveway. Not to mention mowing – both push and riding – and weed whacking.
Lots of sweat, dirt and sore muscles. Scratches, bruises and sunburn.
This past weekend I was reminded of the time when I was an active tom boy. When I felt strong and confident. When my body felt HEALTHY and capable. And it felt damn good, I'll tell you.
Damn good.
While I haven't lost much weight, I CAN take off most of my pants without unbuttoning them. I feel stronger. I feel BETTER.
And I love that feeling!
I might not lose a bunch of weight but I'm feeling better all the time. I'm going to keep it up!
Do you remember a time when you felt good in your own skin? Do you feel good now?