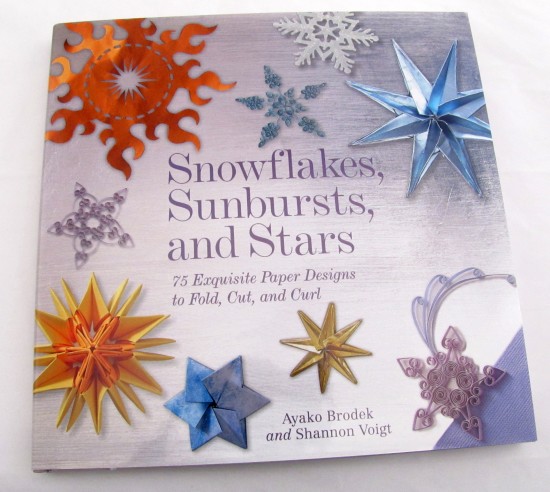 Snowflakes, Sunbursts, and Stars 75 Exquisite Paper Designs to Fold, Cut and Curl by Ayako Brodek and Shannon Voigt
From the back of the book:
The core techniques of origami, quilling and kirigami are demonstrated, with origami symbols, quilling elements and kiragami folds clearly explained.

A skill level indicator is provided for each exquisite snowflake, star, or sunburst design, along with detailed instructions, step-by-step photographs, and templates where required.

You'll also find inspirational ideas for using your paper creations, ranging from original window decorations, garlands, and table settings to beautiful earrings.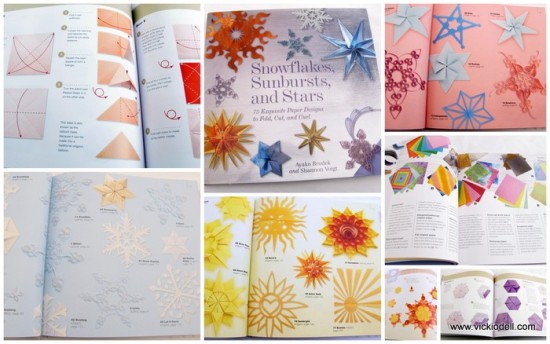 There is certainly plenty of time left in this winter to create and celebrate snowflakes and I know that I, for one, could stand to be making some crafts that make me think of sunny days.
This book is chock full of beautiful paper crafting projects. I love the intricate designs with their step-by-step instructions and can't wait to clear some space in my studio remodel so I can make some of my own.
Here are some details about the book:
75 projects
Hard Back
144 Pages
MSRP $25.95 USD
Contents include:
Sections on Tools, Paper Choices and Core Techniques

Designs – Quilling, Origami, Kirigami
Projects
Index
Suppliers
Snowflakes, Sunbursts, and Stars by Ayako Brodek and Shannon Voigt is available from the amazon.com widget below for $18.50.
This is an affiliate link and purchases made by clicking on this link may result in my being compensated by amazon.com.

Disclosure: Review copy provided. All opinions are honest and my own.